Video Game Deus Ex Gets Its Own Movie Adaptation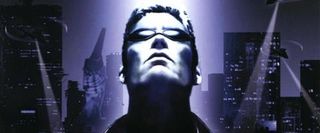 Just yesterday we got some of the biggest video game adaptation news we'd heard in a while, with word that Michael Fassbender was planning to star in and produce an adaptation of Assassin's Creed, the hugely popular video game series set to release its fifth installment this fall. Now, whether by coincidence or the rule that no good idea in Hollywood goes unnoticed, another huge video game series is also putting together plans for a movie adaptation.
According to THR, CBS Films has picked up the rights to the game Deus Ex, in which players take on the roles of various tough guys to fight terrorist factions bent on destroying the world. Unlike Assassin's Creed there's no single central character in the game, and the three installments have taken place nearly 50 years apart, skipping around eras to tell new stories from the same general world. It's unclear if CBS Films plans to adapt a single Deus Ex game or assemble a new story set in the same world, but the studio says they are deep into a search for a director to tackle the project; the deal has been in the works for nearly a year, so they've had plenty of time to start putting the pieces together.
CBS Films, which launched just in 2007, struggled initially to establish its identity, with flops like Extraordinary Measures, Faster and Beastly weighing them down before they found some moderate success this year with The Woman in Black and, to a lesser degree, Salmon Fishing in the Yemen. A Deus Ex film would be the biggest effort they've undertaken by far, and could lead to the studio's first franchise-- sadly, something practically required for any upstart studio hoping to establish itself.
Your Daily Blend of Entertainment News
Staff Writer at CinemaBlend
Your Daily Blend of Entertainment News
Thank you for signing up to CinemaBlend. You will receive a verification email shortly.
There was a problem. Please refresh the page and try again.