Video Interview: The Company Men Writer-Director John Wells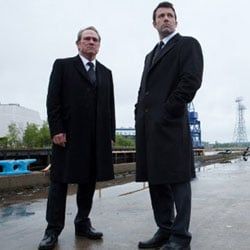 Of course most films are aiming to make their subject matter feel real, but in The Company Men's case, the topic may hit a little too close to home for some. Seasoned TV writer and producer John Wells' very first feature film focuses on three, well, company men. Bobby Walker (Ben Affleck) is the young employee on the rise, but when he's stopped dead in his tracks, thanks to corporate downsizing, he finds that even an impressive resume and skill set aren't enough during hard times. There's also Chris Cooper's character, Phil Woodward. Like Bobby, Phil gets the axe, but in his case, his age makes finding a new spot seemingly impossible. Lastly there's Gene McClary played by Tommy Lee Jones. He's the company's #2, but also finds himself in a tough situation in terms of protecting his employees and himself.
Clearly this is a testy topic for some and Wells was very aware of that. The Company Men was a long time in the making with Wells first developing the concept back in 2000 when the dot-com bubble burst, however, it wasn't until the most recent economic downfall that filming The Company Men became a reality. During a recent interview with Wells, he told me all about the road to production as well as each member of his all-star cast's working styles, his experience directing his first film and much more. Check it all out in the video interview below.
Your Daily Blend of Entertainment News
Staff Writer for CinemaBlend.
Your Daily Blend of Entertainment News
Thank you for signing up to CinemaBlend. You will receive a verification email shortly.
There was a problem. Please refresh the page and try again.