Video: Penelope Cruz's Elegy Nude Scenes NSFW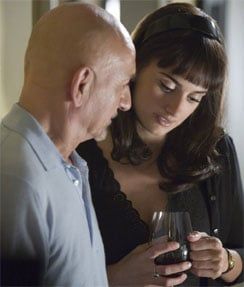 Penelope Cruz and Ben Kingsley have teamed up for an art flick due out later this year called Elegy. The movie's about a cultural critic who undergoes a sexual awakening with one of his students. It's debuting here in America at the Tribeca Film Festival this week, where Cinema Blend's own Katey Rich will be on the ground seeing movies and possibly throwing up on Tina Fey's shoes when she meets her later tonight on the red carpet. Somehow I think if there's one celebrity who might understand a little nervous vomiting, it's Tina Fey.
Elegy will pop up in limited release in June, and today the first clips from the film have popped up online. What has everyone buzzing about them is that they're promoting the movie with nudity. They're not messing around. This is a sensual movie in which Penelope Cruz, who has never had a problem getting naked, drops her top and splays herself out to let Ben Kingsley have sex with and paint her.
To Europeans this is probably not a big deal, but I'm an uptight American… much as I try to fight against it. So when these clips popped up in my inbox I instantly started questioning whether I should even run them, whether that skews us from movie site to porn site if we start running celebrity nudity videos. After a few mental slaps though, here they are. This is the movie. Why shouldn't I run these just like I would any other clip? Besides, if they want to market the movie with nipples, who am I to argue. It's not like we haven't seen Penelope Cruz naked before.
For those of you who are working for puritanical bosses though, be warned. These clips are Not Safe For Viewing At Work, and should not be viewed by anyone under 18. In fact, you probably shouldn't even be on this page. Parents, what the heck are you doing letting minors surf the web unsupervised anyway? Seriously, take some responsibility for what's going on in your house.
Here are all three new clips from Elegy:
Your Daily Blend of Entertainment News