Vin Diesel Will Play Video Game Vin Diesel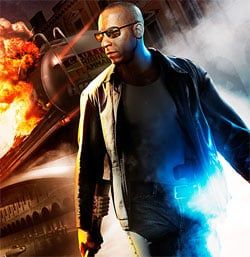 Vin Diesel is a failure when he's not driving a car or babysitting kids. It's true. He's made a lot of movies, but the only ones people care about involve driving or being a nanny. Disappointing really considering that at one time both he and The Rock were considered the next big thing in action movies. Give Vin Diesel some credit, at least he's tried. He's made plenty of action movies, they've just all flopped. The Rock hasn't even bothered and went straight to being Disney's boy toy.
Now though, after years of flops, Vin is going with what works. Fast and Furious made a ton of money so he's getting back into the fast driving game right away. Variety says he's set to star in Wheelman for Paramount Pictures. The weird thing here is that it's based on the videogame of the same name, in which Diesel is also the star. So he'll be playing himself playing himself in a video game. I think I've just gone cross-eyed.
The movie will be directed by John Singleton and as the name suggests, involves a lot of driving. The plot is a little vague. Variety describes it this way: "Diesel will play an expert driver who comes out of retirement to protect a woman from his past." That could plot could be attached to any number of car-based movies, anything from The Dukes of Hazzard to The Transporter. Speaking of The Transporter, if Vin starts doing nothing but driving movies does that make him the new Jason Statham? And if it does, then what's Jason Statham? The other bald guy who drives around punching people?
Your Daily Blend of Entertainment News
Thank you for signing up to CinemaBlend. You will receive a verification email shortly.
There was a problem. Please refresh the page and try again.