The Vision Showed Off For Marvel Fans At The New York Toy Fair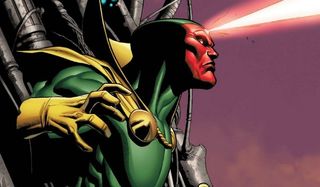 We've already seen a bunch of looks coming our way in Avengers 2, but Marvel is still keeping a few secrets close to the vest, particularly an official look at Paul Bettany as The Vision. We've seen some teases through promo (that got quickly pulled from the Internet) and concept art, but our best look yet comes the Hasbro Preview at this year's Toy Fair in New York City. We were on hand to snap a few shots of the child of Ultron in toy form and promo art.
Hidden with a massive glass display of a bunch of single Avengers 2 toy sets was a small figure of The Vision. In the upcoming film, Ultron wants to prove to his own creator, Tony Stark (Robert Downey Jr.), that he too can create life. Thus, The Vision is born, presumably out of J.A.R.V.I.S. Why else would Bettany, who famously voiced Stark's A.I. butler, be the man behind both characters? Based on this toy, the Marvel Cinematic Universe version of Vision takes its roots from the comic books. Everything you might expect is there, from the green and reddish coloring, to the yellow cape.
We also have a better look at that promo art featuring an up-close look at Vision, which was hanging on a wall at the Hasbro Preview. This had been previously taken down on request of Disney, but here he is again in all his glory.
It's important to note that in the full image of the promo art Vision is surrounded on all sides by members of the Avengers — Thor, Iron Man, Hulk, Hawkeye, Black Widow and Captain America. Although he's Ultron's own creation, this image seems to confirm that he'll fulfill his comic book destiny and join up with Earth's Mightiest Heroes to fight the good fight.
Bettany told us back during Comic-Con that some of Vision's powers include changing his density and being "really good at punching, which is key." Apparently the most painful aspect of filming his role was the uncomfortable wire work."Have you ever been hung in the air by your genitals? I have. It's great." However, Vision is not the only new character we'll be seeing in Avengers 2. "The twins," known as Scarlet Witch and Quicksilver, will be siding with Team Ultron because of some still unknown grudge against the Avengers. Magic, superspeed and a super-strong android in addition to one of the most powerful villains of the Marvel universe will surely be the biggest threat the team has ever faced.
Your Daily Blend of Entertainment News