The Voices Trailer: Watch Ryan Reynolds Receive Orders To Kill From A Cat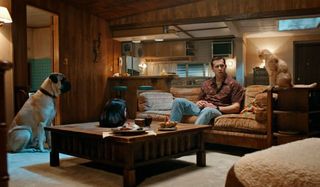 There's no lack of deranged serial killers in the media. Whether seen portrayed in a character on TV or film, or simply by turning on the news to hear of the latest horrific crimes, it is a theme very familiar to us. But, this new trailer for the Marjane Satrapi film, The Voices explores a different type of serial killer. A seemingly innocent Ryan Reynolds is forced to do evil by his two sadistic pets. Watch the trailer below:
The trailer, which first appeared on Entertainment Weekly, gives us a glimpse into the life of a simple warehouse worker named Jerry, played by Ryan Reynolds. Jerry, a disturbed man who the trailer exposed has not been taking his pills, has an interesting relationship with animals, specifically his own dog and cat, Bosco and Mr. Whiskers. And as Jerry points out to his newfound crush played by Anna Kendrick, after she asks if he is good with cats:
And that's the quote that seems to drive the whole premise of the film, because Jerry's cat is seriously evil. Mr. Whiskers tells his owner, or shall we say his pet, that the only way to feel alive is by killing the women in his life. The cat bullies him into murder. And apparently into storing the heads of the women he murders in his freezer?
The film looks completely bizarre and twisted, but Ryan Reynolds plays the perfect creeper. His awkward smile at times is so offputting that you know something bad is going to happen. But his innocence towards the whole situation almost makes you sympathize with him as well. I mean, if you're a cat owner, you know that sometimes when you smile and look into the eyes of your cuddly feline, he's not smiling back at you.
The comedy horror thriller will take a hard look at what it means to be a psychotic killer. Clearly Jerry is mentally ill, and his hallucinations are very real to him. The protagonist of the film has an eerie similarity to a real serial killer that flooded the news in the 70s. David Berkowitz aka Son of Sam, is serving six life sentences for murder in the second degree and attempted murder in the second degree, killing six victims and wounding seven. When first arrested, the serial killer admitted to all of his crimes claiming that his neighbor's dog had commanded him to kill. It was only later, when Berkowitz was in jail that he admitted the story about his neighbor's dog was made up, but to this day, popular belief holds the serial killer as mentally ill and taking medication for said physiological problems.
The Voices first screened at the 2014 Sundance Film Festival, and has already won two awards at the L'Etrange Festival in Paris, including the grand prize. Reynolds stars as Jerry, and also performs all of the voices of the animals in the film. Anna Kendrick, Gemma Arterton, Adi Shankar and Jacki Weaver also co-star. The trailer may seem a bit goofy, seeing a dog and cat talking so conversationally, but the fantastical film looks to be disturbing and intriguing comedy well worth a watch. The Voices will be released in theaters and on VOD February 6, 2015.
Your Daily Blend of Entertainment News
Thank you for signing up to CinemaBlend. You will receive a verification email shortly.
There was a problem. Please refresh the page and try again.