Wait, How Much Will Aquaman Actually Do In Batman V Superman: Dawn of Justice?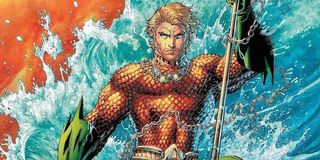 Warning: Possible spoilers for Batman V Superman: Dawn of Justice are ahead!
If there wasn't much hype in the past few months over Aquaman's role in the DC Cinematic Universe, that changed on Thursday night when director Zack Snyder released the first official image of Jason Momoa as DC's King of Atlantis. However, as badass as he will look in his debut film Batman V Superman: Dawn of Justice, fans shouldn't expect too much out of him in the 2016 blockbuster. Previous reports have indicated that his presence is nothing more than a cameo, and now we might know precisely how he'll be involved in the team-up film.
According to Badass Digest, Aquaman is "barely present" during Batman V Superman: Dawn of Justice. His only appearances is when he shows up at Lex Luthor's survey of metahumans and at the end of the film when Batman recruits him for the Justice League. While the writer admits that reshoots may have allowed for the aquatic superhero to gain more screen time, fans shouldn't expect him to play a substantial part in the proceedings. Evidently there just isn't enough room in the story to include him alongside main heroes Batman and Superman and supporting hero Wonder Woman. This is basically equivalent of when Tony Stark showed up at the end of The Incredible Hulk, or when Professor X and Magneto appeared in The Wolverine's post-credits scene.
Despite this minuscule role, it seems that DC and Warner Bros. do have something big planned for Aquaman in the DCCU. Last night's image included the line "Unite The Seven." At first glance, this seems like a reference to Aquaman uniting the Seven Seas as the King of Atlantis, but going one step further, this line could actually mean the seven founding heroes of the Justice League.
Batman may be the one that recruits Aquaman to the team, but what if Aquaman is somehow responsible for bringing the other heroes together. Conversely, maybe he doesn't bring most of the team together, but in Justice League Part One, he could be the one that gets them to cooperate or work together, i.e. function as the team's glue. The problem with both ideas is that only six heroes have been confirmed for Justice League Part One, while several reports state that Green Lantern either doesn't appear at all in the film or only appears in the last several minutes. However, given the character's long history, it wouldn't be surprising if the script was rewritten to include the Emerald Warrior in the festivities.
Regardless, while Aquaman may not get to pal around with the Dark Knight and Man of Steel for too long in 2016, it sounds like we can expect great things from him in the future, whether it's teaming up alongside his fellow DC heroes or headlining his own movie in 2018.
Your Daily Blend of Entertainment News
Connoisseur of Marvel, DC, Star Wars, John Wick, MonsterVerse and Doctor Who lore. He's aware he looks like Harry Potter and Clark Kent.