Wait, Private Investigators Were Hired To Look Into An Oscar Snub?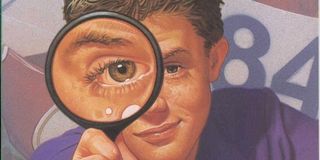 Disappointed that you woke up on Oscar morning yet didn't hear your name called from the podium as a nominee? Then call a private investigator to explore what the hell went wrong.
According to The Hollywood Reporter's awards expert Scott Feinberg, that's what a public relations firm attempted to do after a song they were paid to campaign on behalf of failed to land the coveted Oscar nom. This is shaping up to be one of the strangest stories out of the ongoing Oscar race… a marathon characterized by bizarre behavior around virtually every turn.
THR says that the private investigator was hired to specifically look into the eligibility of a song that DID get the nomination: Alone Yet Not Alone, from the movie of the same name. In his analysis of the current Best Song category, our own Gabe Toro asks, "What the hell is Alone Yet Not Alone?" He's not the only one who wants to know.
Feinberg says that the firm which hired the private detectives "refused to be named" but did "[offer] details of its findings" to the trade magazine. Was it the people behind Inside Llewyn Davis? It had to be the people behind Llewyn Davis, right? THR reports:
While this absolutely comes off as a case of sour grapes on behalf of a Best Song hopeful who feels like it got left out – and blindsided – by a song and a movie no one heard of until Oscar nomination morning, there's a deep-seated reason for the suspicion. As THR points out, the nominated song from Alone Yet Not Alone features music by Bruce Broughton, a "former member of the Academy's board of governors who represented the music branch from 2003-2012."
Conflict of interest? Not exactly, though Gabe does mention in his piece that Broughton "apparently cold-called voters, pushing them to vote in this direction." So it sounds like more of a case of politicking on the eve of Oscar nominations to pull the upset. And it worked! Alone Yet Not Alone forever can call itself an Oscar nominee… one that was professionally investigated by L.A. investigators who I'm going to assume look like the dudes from C.S.I. Play us out, David Caruso.
Movie junkie. Infatuated with comic-book films. ReelBlend cohost. Resident dad. Extroverted introvert. Wants to see the Snyder Cut. Managing Director at CinemaBlend.
Your Daily Blend of Entertainment News
Thank you for signing up to CinemaBlend. You will receive a verification email shortly.
There was a problem. Please refresh the page and try again.