Wait, Is Sean Astin Returning For Goonies 2?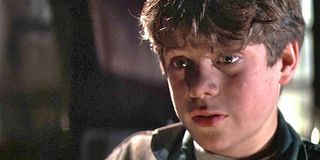 Rumors of a sequel to the cult classic childhood adventure Goonies have been circulating for almost a decade. Last year we were at the height of it all when director Richard Donner insisted it was happening, but the rumors soon fizzled out when word on the street was that proposed drafts for the sequel weren't up to par. Sean Astin himself admitted a few months back that while plans to develop were still afoot, it could just be impossible to pull it all off. That was until last night when the actor tweeted, but then quickly deleted, this clear cut message:
The tweet which comes from Twitter user Mike Backhose is a screenshot of the actor's previous tweet along with an ironically timed story about the fact that Astin may not actually return. Astin has since deleted the tweet, and then came out with this contradiction.
We can't be sure if the actor really just tweeted out the first one as a joke, or that there was some truth in the matter, that wasn't supposed to be shared. It surely wouldn't be the first time that an actor spoke out of term when they weren't supposed to leak information.
A couple months ago, Goonies writer Chris Columbus said he'd never give up on the idea of a sequel, stating that he'd already helped "heavily develop" a reboot. There's always been a continuous "will they, won't they" when it comes to a Goonies 2, but since Sean Astin has always played on the cautiously optimistic side of it all, it does help light a fire in knowing he's still talking about it. Plus with this newly worked reboot idea, we couldn't be sure that if it did happen it would include the original cast members. Knowing Sean Astin "shall return" (possibly) makes it that much more worth the wait.
Your Daily Blend of Entertainment News
Thank you for signing up to CinemaBlend. You will receive a verification email shortly.
There was a problem. Please refresh the page and try again.