Wait, We're Getting ANOTHER New Frankenstein Movie?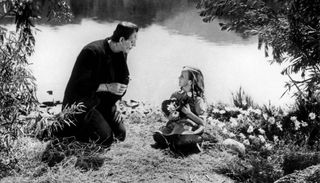 Actor Xavier Samuel has already been a vampire in the Twilight series, and now he's set to add another iconic horror monster role to his resume when he headlines a newly announced updating of Mary Shelley's classic tale of terror, Frankenstein.
Candyman helmer Bernard Rose (who also gave us the Beethoven biopic Immortal Beloved) will helm the new feature, which he also wrote, according to a report featured over at Deadline. Rose's version of the well-worn tale will bring Frankenstein and his monster to Los Angeles, in modern times, with a husband-and-wife scientist team (Carrie-Anne Moss and Danny Huston) creating the creature, who finds nothing but violence and rage directed toward him from the outside world.
The article goes on to add that Rose will reunite with Candyman star Tony Todd, but his role has yet to be revealed.
Eclectic Pictures is guiding the update through the production process, and has Gabriela Bacher, Heidi Jo Markel, Jennifer Holliday Morrison, Christian Angermayer, and Klemens Hallmann aboard as producers.
Shelley's monster has had a resurgence in terms of cinematic popularity over the past few years. From direct-to-video affairs like Richard Raaphorst's Frankenstein's Army and Ryan Bellgardt's Army of Frankensteins, to box office dud I, Frankenstein, to upcoming releases like Sherlock Holmes vs. Frankenstein (I kinda doubt we'll ever actually see this one…) to Paul McGuigan's Frankenstein, the monster is everwhere these days.
McGuigan's film, which is reportedly a prequel slated for an October 2015 release date, could beat Rose's to the punch. That movie features a Max Landis screenplay and lead performances from Daniel Radcliffe and James McAvoy.
For whatever reason, filmmakers have struggled in recent years to make Shelley's infamous monster compelling to horror audiences. While Dracula never seems to wane in popularity, Frankestein has suffered through its share of lousy adaptations over the years – most notably, Kenneth Branagh's 1994 disaster, Mary Shelley's Frankenstein, which found Robert De Niro playing the famous monster stitched together from discarded body parts.
Rose will have his work cut out for him – setting the tale in modern times hasn't led to a bunch of great Frankenstein movies, either – even though the themes about man playing god through the use of science are arguably more timely than ever. Occasionally, a riff on the idea of Shelley's book will become a minor hit (Splice had a very Frankenstein feel to it, but was different enough to stand on its own), but most adaptations have struggled to find relevance.
Hopefully Rose and company can buck that trend, because Frankenstein remains one of horror cinema's biggest and most beloved monsters. Watching the character wallow in cinematic mediocrity isn't what anyone wants.
What do you think? Are you ready for more Frankenstein, or should this monster be left to rest in peace?
Your Daily Blend of Entertainment News