Wall Street Intern Quits To Film Porn Parody Of Wall Street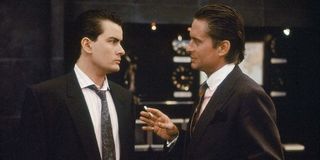 Oliver Stone's Wall Street was a hit with mainstream cinematic audiences back in the 80s. Its highly successful 2010 sequel Wall Street: Money Never Sleeps also did well with the general public, raking in approximately $134 million worldwide. Now, it looks like the franchise is about to gain the attention of an entirely new audience with news that a Wall Street intern has up and quit her job to take part in a porn parody based on the 1987 classic.
It was only weeks ago that Paige A. Jennings was quietly working as an intern in the alternative-investments marketing group at Lazard Asset Management on Wall Street. But as they say, a lot can change in a day. As we speak Jennings, working under the name Veronica Vain, is now filming in Los Angeles after taking a six-figure paycheck to star in the skin flick titled Screwing Wall Street.
The deal was struck through the matchmaking site ArrangementFinders.com and, according to Page Six, it will see the former intern taking on the role of a female Bud Fox, Charlie Sheen's character from the original film. Sounds kind of creepy, I know, but roll with me here. As the website's president Kayden Kross sees it, the original Hollywood film is actually pretty much a porno without the sex.
I'm trying to remember the plot of the film now. Okay, wait. Is that really the case? Anyways, the 23-year-old Vain is said to go "from bedroom to boardroom" as she transforms from broker to player, doing everything she can to "get to the top".
But, what is Wall Street without Charlie Sheen, you may ask? The quick answer is Wall Street: Money Never Sleeps. Okay, what's Wall Street without Charlie Sheen, Michael Douglas and Shia LaBeouf? Some would say without at least two of the three it isn't Wall Street at all. So that leads me to say... and don't take this the wrong way... should the producers of the upcoming porno have attempted to bring aboard some of the original films' talent? Douglas has displayed his onscreen sexual presence in numerous films. Basic Instinct anyone? LaBeouf has also capitalized on his sexual prowess in films like Lars von Trier's Nymphomaniac: Vol. I and Vol. II. And last but not least, Sheen has played ladies man Charlie Harper in Two and a Half Men for nearly a decade. Not only that, he has a history of shacking up with porn stars that dates back to the 80s.
There's no doubt the film would reach a broader market with the above talent attached but that's assuming people want to see beneath the covers, so to speak...
Screwing Wall Street is currently shooting and should be available later this year on DVD and on Arrangement Finder's site.
Your Daily Blend of Entertainment News