War Machine Apparently Will Be Pivotal To Captain America: Civil War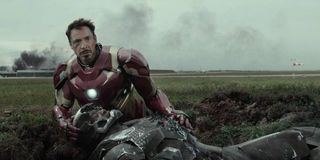 Captain America: Civil War is going to be packed. In fact, the blockbuster is going to be so chocked full that it's hard to imagine how even Marvel's main characters will find room to shine, let alone the supporting ones. This immediately brings me to Don Cheadle's War Machine. But, rather than being just a bit-part player with little to nothing to do in Civil War, Cheadle came out and insisted he's going to be rather pivotal.
Don Cheadle, who made his debut as James Rhodey Rhodes, a.k.a. War Machine, in Iron Man 2, replacing Terrence Howard in the part, told SuperHeroHype that while Rhodey has only been a supporting player in recent Marvel films, he's going to be downright integral to Captain America: Civil War.
From the look of things, War Machine is going to get roughed up in Captain America: Civil War. I mean, take a look at the first trailer for the upcoming Marvel adventure, which shows Tony Stark/Iron Man cradling the body of James Rhodes/War Machine as he lies on the ground, unconscious, his suit in tatters.
In fact, there have already been a few rumors regarding War Machine's fate in Captain America: Civil War that have been even more specific. Those of you who avoid SPOILERS like the plague might not want to read ahead just in case this speculation turns out to be true and it ruins your enjoyment of Civil War.
Are they gone? Good. Because it's been speculated that War Machine won't just get injured in Captain America: Civil War, it's also been alleged that the superhero will actually die in the battle that ruins Iron Man and Captain America's friendship.
And, well, his death might actually be rather important to raising the stakes in Civil War, especially as it may occur while Captain America is trying to protect his own pal Bucky Barnes from Iron Man. Over the last week there have been multiple rumors about the potential death count in Captain America: Civil War, with it being suggested that the Russo Brothers have so far shot three death scenes, only one of which will end up in the film.
We'll find out who survives Captain America: Civil War rather soon, because the hugely anticipated blockbuster is due out in cinemas in just over three months time. Captain America: Civil War will finally be with us on May 6, 2016.
Your Daily Blend of Entertainment News