Watch Arnold Schwarzenegger Hilariously Prank Terminator Fans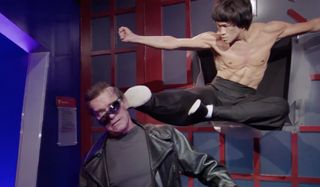 Arnold Schwarzenegger is a ball of fun. He likes to blow up stuff with his massive tank, he goes on late-night talk shows for hilarious skits, and he loves to prank people. In his latest stunt, the Terminator suited up as the T-800 and hit the streets of Hollywood and the local Madame Tussauds celebrity wax museum to have some fun with bystanders.
First, Schwarzenegger walked the streets of Hollywood as the T-800 — personality and all. He told a woman, "Come with me if you want to live," but apparently she didn't want to live because she didn't take his hand. He also had some fun trying on sunglasses at a local boutique, waving a selfie stick around and competing with a Terminator impersonator in an "I'll be back" face-off. Nothing compares to the original. The second phase involved the actor standing perfectly still while pretending to be a wax statue at Madame Tussauds. He was able to scare the crap out of a lot of unsuspecting visitors, but they all walked away with smiles as they got to take photos with Schwarzenegger.
It was all in good fun! The prank was performed to help promote After-School All-Stars, a program that supports after-school programs for kids. Schwarzenegger is a founder of the charity and he previously used the campaign "Blow Shit Up" to help fund it; the contest gave those who donated the chance to win a day with Schwarzenegger and his tank to, obviously, blow shit up. This time around, the actor is offering those who donate the chance to attend the premiere of Terminator Genisys with the Terminator by their side. But if they don't win that prize, there are a ton of other goodies they can get, including a spot in Schwarzenegger's charity poker tournament and a meet-and-greet with him on the red carpet.
Channing Tatum recently used a similar tactic to promote Magic Mike XXL and support his own charity. The actor got all suited up in makeup and prosthetics as an old marketing exec and pranked an audience at a special screening of the sequel. This particular stunt was to bring attention to his campaign for the Runa Foundation. Those who donated to the organization, which sponsors the world's first medical and research clinics for Amazonian planet medicine, were entered to a win a trip to the premiere of Magic Mike XXL and a day of hanging with Tatum and the boys. Watch his prank below and compare and contrast with Schwarzenegger's.
Arnold Schwarzenegger returns to the big screen in Terminator Genisys starting on July 1. He stars opposite Emilia Clarke, Jai Courtney, Jason Clarke, Matt Smith, J.K. Simmons and Lee Byung-hun in the first installment of a new trilogy. So yeah, he'll be back.
Your Daily Blend of Entertainment News
Thank you for signing up to CinemaBlend. You will receive a verification email shortly.
There was a problem. Please refresh the page and try again.