Watch Channing Tatum Hysterically Prank A Theater Full Of Magic Mike Fans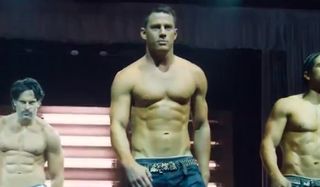 When Channing Tatum gathered a group of diehard Magic Mike fans in one theater, he couldn't pass up the opportunity to have some fun. The folks were gathered expecting to see a special screening of Magic Mike XXL in 3D, but they ended up getting a special treat in the form of Tatum himself completely unrecognizably dressed as an old marketing exec. Watch the theatrics below.
Channing Tatum partnered with Omaze for a charity campaign to benefit the Runa Foundation, which sponsors the world's first medical and research clinics for Amazonian plant medicine. Those who donate will receive anything from a digital thank you card to a meet-up with Tatum at Sony, depending on the amount of the donation. But they will also be entered to win the ultimate prize: a trip to the premiere of Magic Mike XXL with the actor and his sexy co-stars. This prank, which debuted on Yahoo Movies, kicked things off with a confetti-fueled bang.
Meet Scot.
He works for Harley Marketing Solutions and he's conducting a test screening of the sequel with the fans. But first things first, he had to know what the folks thought about the first Magic Mike. Fortunately, some of them thought it accurately depicted the life of a typical male stripper, even the darker side, as Scot clarified. Ultimately, though, they didn't care all that much about the story. They just wanted to see the goods, and one even hoped for full-frontal male nudity in Magic Mike XXL.
When the test subjects all sat down for the screening, they were asked to put on their 3D glasses. And that's when all hell broke loose.
The screening, as it turned out, was a lot more in your face than anyone realized. But, if the crowd wasn't all hot and bothered by these fine gentlemen right here, they certainly were when Scot revealed himself to be Channing Tatum and grinded up all over one lucky woman's lap.
This pretty much sums up our reaction to this whole ordeal.
Magic Mike XXL returns Tatum, Joe Manganiello, Matt Bomer, Adam Rodriguez and Kevin Nash -- but not Matthew McConaughey or Alex Pettyfer -- for a road trip adventure. Mike has been retired for some time and the rest of his bros want to follow suit, but not before one final blowout at a stripping convention in Myrtle Beach. The film opens in theaters on July 1, and it's going to be far more steamy than this test screening.
Your Daily Blend of Entertainment News