Watch Captain America: Civil War's Leading Ladies Discuss Their Importance To The Story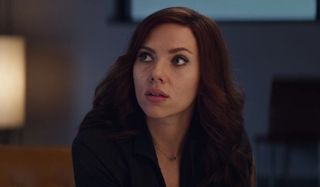 Lines will be drawn when Captain America: Civil War comes out next month, leading many of the heroes in the Marvel Cinematic Universe to clash over the new government legislation regulating superheroes. For the latest featurette on the blockbuster, the spotlight is turned on the three leading heroines, Black Widow, Agent 13 and Scarlet Witch, and what role they'll play in the movie. Take a look!
With some new footage sprinkled alongside scenes from previous trailers, the latest Captain America: Civil War featurette, titled "In Good Company," features interviews with Scarlett Johansson, Emily VanCamp and Elizabeth Olsen talking about how their characters are participating in the Phase Three kick-off story.
First up, Natasha Romanoff, a.k.a. Black Widow, who's been a major player in the MCU since Iron Man 2. Although she and Steve Rogers developed a close relationship in Captain America: The Winter Soldier, she will side with Tony Stark. a.k.a. Iron Man, when everything gets rolling. While she wants to maintain her bond with Steve and reason with him, she see Tony as the "path of least resistance," so she's definitely being quite the survivalist with her train of thought. Johansson has previously said that Black Widow will be using her position to not so much fight the opposition as let it all play out, but when the big battle happens, she'll be running into it with her fellow teammates.
Next, we have Sharon Carter, a.k.a. Agent 13, who was introduced as a S.H.I.E.L.D. operative in Captain America: The Winter Soldier before joining the CIA following the HYDRA reveal. While her exact role in the movie has yet to be revealed, this featurette makes it clear she'll be "sassier" and have plenty of action moments, including taking on Bucky Barnes, a.k.a. the Winter Soldier. A previous still image showed Sharon with Martin Freeman's Everett Ross, an agent for the Joint Counter Terrorism Center, but she'll eventually ally herself fully with Team Captain America during the conflict.
Finally, we have Wanda Maximoff, a.k.a. the Scarlet Witch, who was introduced last year in Avengers: Age of Ultron and is still grieving for the loss of her brother Pietro, a.k.a. Quicksilver. Captain America: Civil War will see her struggling and even outright "terrified" by her special abilities, which include telekinesis and hypnosis. She'll side with Team Captain America during the movie, and the featurette includes that scene of her forcing The Vision to the ground, showing just how powerful she is.
All together, it looks like fans can count on Black Widow, Agent 13 and Scarlet Witch playing key roles in the third Captain America installment's conflict, which is finally erupting after years of brewing under the surface. You can see these ladies in action alongside their fellow male crimefighters when Captain America: Civil War hits theaters on May 6.
Connoisseur of Marvel, DC, Star Wars, John Wick, MonsterVerse and Doctor Who lore. He's aware he looks like Harry Potter and Clark Kent.
Your Daily Blend of Entertainment News
Thank you for signing up to CinemaBlend. You will receive a verification email shortly.
There was a problem. Please refresh the page and try again.