Watch Chris Evans Fumble On Captain America: The Winter Soldier Blooper Reel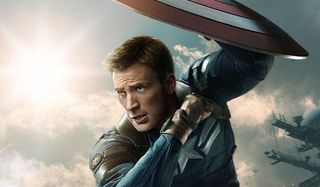 Captain America: The Winter Soldier brought the Marvel Cinematic Universe into the genre of poltical thriller. And it did it with such skill and aplomb that even an Honest Trailer couldn't tear it apart. (We've since discovered that was by design.) For all the greatness that was jam-packed into the Captain America sequel, there was some flubs in its making. And Marvel's cool enough to share the silliness with this newly unveiled blooper reel.
Chris Evan is a total pro, who has had some lows and highs with Captain America. Among the lows is a faulty shield that does not live up to its vibranium standard when it comes to breaking down doors. Cobie Smulders has some struggles with headgear. But the scene-stealer of this blooper reel is Anthony Mackie. When he's not in character as Sam "Falcon" Wilson, the Hurt Locker star is tapping into his deep appreciation for Denzel Washington with a recurring impersonation. ("Cut the Check!") We know it's greedy, but we're with Evans on wanting to see his Wesley Snipes.
On one level, this blooper reel is another way for Marvel to score some headlines, and draw more notice to the release of Captain America: The Winter Soldier's DVD and Blu-ray release. (Available now!) But releasing such silliness to the web also shows the self-awareness Marvel has over how its fans appreciate it. While DC seems to want to keep their heroes eternally serious, Marvel has been great about offering thrilling action hand-in-hand with welcomed wackiness. Thankfully, this includes being generous with blooper reels.
It turns out blooper reels are the gift that keeps on giving. After Marvel unveiled a lengthy and loony Avengers blooper reel, one fan transformed it into a clever and kooky trailer that went viral in its own right. Revisit this marvel below:
We've also been proffered the rich fruits of Aasgard jackassery in a Thor: The Dark World blooper reel:
But the best behind-the-scenes silliness Marvel has ever dared to unveil was hands down Tom Hiddleston as Loki as Captain America.
What Marvel insanity awaits us in the studio's Phase Three? Stay tuned.
Staff writer at CinemaBlend.
Your Daily Blend of Entertainment News
Thank you for signing up to CinemaBlend. You will receive a verification email shortly.
There was a problem. Please refresh the page and try again.