Watch Chris Rock Adorably Let Girl Scouts Sell Cookies To Celebrities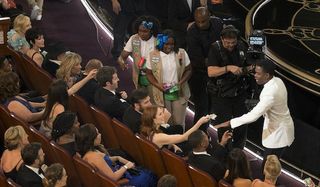 I genuinely do not care who you are. You could otherwise be the absolute best father in the world, you're still not a better father than Chris Rock tonight. Don't even try. The man is such a damn good father that he let his daughter sell Girl Scout cookies to celebrities at this year's Academy Awards. Check it about below.
"Are you gonna deny my princesses some cookies." With that simple statement, iconic standup comedian Chris Rock completely guilted the entirety of the Hollywood elite into buying some god damn Girl Scout cookies. The movement starts with Tina Fey, then Charlize Theron, and even Matt Damon joined in. Damon, in particularly, clearly enjoys his fair share of Girl Scout cookies, as we actually caught brief glimpses of him enjoying them later in the show.
Of course, we all know Leonardo DiCaprio has become insane Oscar fodder over the course of the last few years, and as a result Chris Rock decided to have a little bit of fun at his expense. DiCaprio made a decent payday off of The Revenant, so Rock acknowledges it by saying that he earned $30 million for The Revenant, so therefore he clearly has enough money to pay for a few Girl Scout cookies. He's not wrong.
The host then moves on Michael B. Jordan – or as Rock called him, "Black Rocky" – and then suddenly refused to let the Girl Scouts sell to him on the grounds that he has enough girls. We're not saying that we think Michael B. Jordan is about to start spitting game at Girl Scouts, but we have to say we agree with Chris Rock's assertion that he can currently get pretty much any woman that he wants.
Look, I'm not saying that you need to go out and buy every box of Girl Scout cookies that you see. All I am saying is that thank god that Chris Rock isn't there to guilt you into doing so. The Girl Scouts are everywhere; they're outside of your local grocery store, and they're at the Academy Awards, so at this point you should pretty much accept the fact that you will probably find yourself coerced into buying a box at some point this year. As for me? I am going to curl up with my box of thin mints and enjoy the rest of the 2016 Oscars.
Of course, that was only one moment from this year's Oscars. Stay tuned for more of the latest and greatest from the Academy Awards.
Photo Credit: ABC/Image Group LA
Your Daily Blend of Entertainment News
Originally from Connecticut, Conner grew up in San Diego and graduated from Chapman University in 2014. He now lives in Los Angeles working in and around the entertainment industry and can mostly be found binging horror movies and chugging coffee.