How Alcohol Almost Ruined Lea Seydoux's Spectre Audition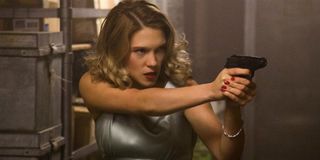 It's common for people to have an alcoholic beverage — or eight — to calm the nerves before a high-pressure situation. But for Lea Seydoux, it nearly ruined the biggest moment of her career. The Blue Is the Warmest Color actress portrays Madeleine Swann in the new James Bond movie Spectre, but she could've easily lost the role thanks to that beer she had before her audition.
While visiting the Mexico City set of Spectre earlier this year, I caught up with Seydoux about her role. Though she still couldn't reveal much about the character, she did reveal how non-traditional her audition was. She first explained,
Auditioning for a major female role in one of the most popular and beloved movie franchises of all time is a pretty uncomfortable feeling. We definitely understand that. So, she decided to calm her nerves, and that's when things went down hill.
As Jamie Foxx and T-Pain famously said, "Blame It On the Alcohol." Watch the full clip below.
When it comes to prospective Bond Girls, there seems to be a tradition of auditioning for the role by reading the script from a previous Bond Girl. Naomie Harris, who plays Moneypenny in the Daniel Craig-led films, told press that she read Eva Green's part from Casino Royale. The same was true for Seydoux, who told me she read Harris' part for her Spectre audition.
Funny enough, Spectre was so secretive even from the actors' standpoint that Seydoux took on the role without reading a script or knowing exactly who she was playing. She said,
Even at the time we spoke, which was towards the beginning of filming, Seydoux didn't know how to fully describe her character. She did, however, reveal that Swann is a doctor, she's "more complex," and "she's equal to Bond." Lea Seydoux is joined by cast members Christoph Waltz, Dave Bautista, Monica Belluci, Andrew Scott, Rory Kinnear, Ralph Fiennes, Ben Whishaw, Stephanie Sigman, Naomie Harris, and, of course, Daniel Craig.
Spectre will hit theaters on November 6. Stay tuned for more coverage from the set as it rolls out. And be sure to celebrate Global James Bond Day today, Oct. 5, as it is the anniversary of the theatrical release of Dr. No, the first James Bond film.
Your Daily Blend of Entertainment News
Thank you for signing up to CinemaBlend. You will receive a verification email shortly.
There was a problem. Please refresh the page and try again.