Why Mr. Hinx Will Be Bond's Most Formidable Villain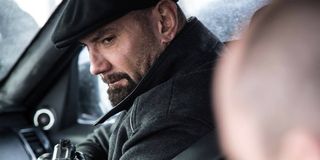 Not many specifics are known about Spectre to begin with, but we know even less about Mr. Hinx. Guardians of the Galaxy star and ex-WWE wrestler Dave Bautista portrays the new James Bond movie character, and he was still vague when I spoke to him on the Mexico set of the film. However, he was able to reveal a few tidbits, including his conjecture that he's unlike anything we've seen before from a Bond character.
Based solely on the look — we've seen brief hints of the character in behind-the-scenes videos, trailers, and movie stills — I half-expected him to whip out a killer bowler hat. Not to mention, there's also the name, Mr. Hinx, that emotes classic Bond villainy. We've also seen previews where he's strangling 007, so he can't be a good guy. Bautista said,
Much like Lea Seydoux, who plays a character named Madeliene Swann, the actor couldn't reveal many details. But here's what he could say,
Dave Bautista certainly looks the part. Aside from his past as a WWE fighter, he also featured as physically menacing characters in The Man With the Iron Fists and James Gunn's sci-fi space opera for Marvel. As he explained,
Watch a clip from our video interview with Bautista below.
Spectre picks up after the events of Skyfall with Daniel Craig's 007 on a mission in Mexico City during the Day of the Dead celebrations. An explosive scene, which involves Stephanie Sigman's mysterious Bond girl addition and a helicopter fight scene, will kick off the film but Bond is on a mission of his own. Craig is joined by Monica Belluci, Christoph Waltz, Andrew Scott, Rory Kinnear, Ralph Fiennes, Ben Whishaw, and Naomie Harris.
Spectre will hit theaters on November 6.
Your Daily Blend of Entertainment News
Thank you for signing up to CinemaBlend. You will receive a verification email shortly.
There was a problem. Please refresh the page and try again.