Watch Conan Hilariously Exaggerate How Bad Fantastic Four Is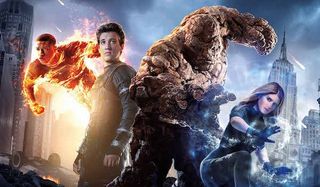 It's no secret that 20th Century Fox's Fantastic Four reboot is faring poorly in theaters, both critically and commercially. Although he didn't see the film, talk show host Conan O'Brien was surprised the movie garnered such bad buzz going off the previews that he saw, and showed off some of these previews to his audience last night. The things is, if you saw the movie recently, these particular clips won't look super familiar to you. Take a look!
Rather than feature clips from the latest go at Marvel's First Family, Conan used footage from the unreleased 1994 Fantastic Four film for comical effect. Make no mistake, this movie is bad in its own cheesy way. Take a look at the video above, and you'll see Human Torch shoot horribly animated flame at Doctor Doom's goons; Invisible Woman "disappearing" so that two goons run into each other; Mister Fantastic stretching to punch Doctor Doom himself; and The Thing flexing his orange rock muscles which look suspiciously rubbery. Obviously the talk show is exaggerating how bad Josh Trank's Fantastic Four is doing, but it's still pretty funny.
This Fantastic Four film, produced by B-movie legend Roger Corman, was never released to the public and has only been available through bootleg copies. Several reports indicated that the film had only been made so that producer Bernd Eichinger and his company Constantin Film could retain the rights to the characters. Whether that's true or not, eventually Fox did release two real Fantastic Four films to theaters last decade, and after those earned bad reviews, the studio decided to reboot the series again - and the result was the movie that's currently flopping.
After showing off these ridiculous action scenes, Conan then cut to a scene in the Roger Corman film featuring The Thing seeing how he looks for the first time in. Here we have poor 1990s practical effects and hammy acting at their finest. If there's one compliment that can be directed at 2015's Fantastic Four, it's that The Thing has never looked better, even if they didn't take full advantage of his facial expressions. O'Brien and his sidekick Andy Richter then amusingly try to figure what The Thing yelled when seeing his reflection. He was actually saying first, "Look at me!", but to some ears it comes out as unintelligible gibberish.
While the 21-year-old Fantastic Four movie will always be ranked as one of the worst superhero movies of all time, Rotten Tomatoes oddly enough lists it as having a 33% approval rating, while the 2015 film ranks a measly 9%. Obviously not everyone might think the latter is that bad of a movie, but the overall consensus is that it's terrible.
You can still catch the latest Fantastic Four film in theaters, and despite negative reception, it looks like Fox is still moving ahead with a sequel for release on June 9, 2017.
Connoisseur of Marvel, DC, Star Wars, John Wick, MonsterVerse and Doctor Who lore. He's aware he looks like Harry Potter and Clark Kent.
Your Daily Blend of Entertainment News
Thank you for signing up to CinemaBlend. You will receive a verification email shortly.
There was a problem. Please refresh the page and try again.