Watch Disney's Beauty And The Beast Villain Destroy A Cocky Tourist In A Push-Up Contest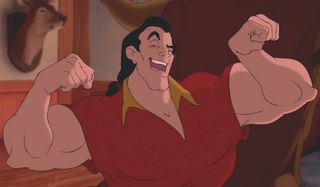 Gaston from Beauty and the Beast is just vapid. He's a living, breathing embodiment of misogyny, making him one of the most hated Disney villains of all time, especially after the pro-gender-equality effect Frozen's had. In an attempt to out-man Gaston, though, a Disney park-goer challenged him to a push-up competition with the hopes of besting him at his own game. Unfortunately, that's not how things played out.
As you can see in the video, posted online by Blake Platt, Gaston once again earns the disdain of everyone around him by besting a civilian. "Perhaps he could use a hand," he taunted before turning this into a one-handed push-up contest. It's fine, loyal park-goer. No one likes this guy anyway.
The man shown losing horribly is Platt's brother, and he had no idea his video would become a viral hit. To date, though, it has racked up nearly 5 million views on YouTube (and counting). The best viral content is that which touches us on a human level, and everyone can easily rally behind the prospect of besting the true Beast.
Funny enough, this particular Gaston was also the subject of another video making the Internet rounds not too long ago. When a young girl encountered him and snapped a shot next to him, she let him have a piece of her mind when she realized how sexist his views are. If it were up to Gaston, all women would be stuck in the kitchen making sandwiches instead of becoming international sensations for freezing over the kingdom of Arendelle. Let it go, Gaston. Let it go.
While it's been a long time since we've seen Gaston on the big screen, Disney has plans to revitalize its Beauty and the Beast property with a live-action retelling. Hopefully this also means that Gaston will be back to cause a newer generation of moviegoers to hate his guts. Bill Condon, who directed the two-part Twilight: Breaking Dawn finale, is at the helm, and we more recently heard that The Perks of Being a Wallflower screenwriter Stephen Chbosky is writing a new draft of the script. Not much is known about the film, though it will feature music from the original animated classic and the Broadway musical. Now they just need to start casting. Who do you think should play Gaston? That's not a curse I'd wish on my worst enemy.
Your Daily Blend of Entertainment News
Thank you for signing up to CinemaBlend. You will receive a verification email shortly.
There was a problem. Please refresh the page and try again.