Idina Menzel Doesn't Care If You Liked Her 'Let It Go' Performance On NYE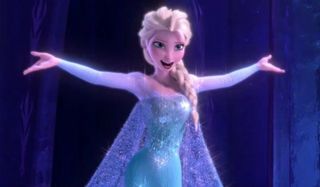 Idina Menzel hit the Time Square stage during New York's massive New Year's Eve celebration to sing her hit song from Frozen, "Let It Go." Unfortunately, it was not her best performance and fans have been blasting her flubs all over the Internet recently. In response, Menzel has some great advice: Let it go!
The day after it all went down, the Broadway star tweeted some statements she gave to Southwest Magazine about defining success. But just to play devil's advocate, maybe citing your interview during which you say you're "succeeding" if you're hitting only "75 percent" of the notes is not the best retort.
Chances are you've heard Menzel sing "Let It Go" so much that you can practically belt it in your sleep. At this point, she can probably do the same. The Wicked-ly talented Broadway and movie star has performed the tune countless times, from the Oscars stage to opposite Jennifer Nettles for the CMA Country Christmas concert to her jam session with Jimmy Fallon. So, we should give her a break this time around.
Sure, she was pitchy and she ended up screaming that final high note, but we're gonna let you in on a little secret: performing outside in 30-degree weather is difficult. As expected after such a disappointing performance, the hordes of tweeters descended upon her with a barrage of not-so constructive criticism.
Well, folks, when "the wind is howling like this swirling storm inside" -- literally -- it's hard for musicians to hear themselves and the accompaniment.
If there's one thing Menzel will never be able to forget aside from "Let It Go," it's this damn "Adele Dazeem" bit. Who knew a mental slip from John Travolta would have such a lasting effect.
Sometimes it's easy to disregard this in the moment when everyone is ganging up on her, but Menzel is quite the force to be reckoned with and we all know it deep down. She wowed audiences in the original Broadway production of RENT before reprising her role in the film version. How easy we seem to forget, too, that people are still humming her songs from Wicked 11-and-a-half years later. All performers have their low points, and she unfortunately had hers on one of the largest stages.
This won't be the last time Menzel sings "Let It Go," anyway, so she can easily make up this performance with a show-stopping one. She'll also be returning for that Frozen short film that'll play in front of Cinderella, in theaters on March 13. Plus, if Menzel's confirmation on Frozen 2 is to be believed, this property is sticking around for the long hall.
Your Daily Blend of Entertainment News
Your Daily Blend of Entertainment News
Thank you for signing up to CinemaBlend. You will receive a verification email shortly.
There was a problem. Please refresh the page and try again.