Watch Doc Brown Return In This Fantastic Back To The Future Short Film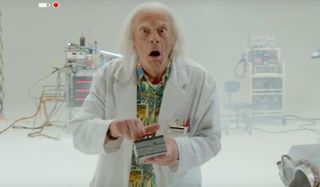 What happened to Doc Brown at the end of Back to the Future 3? Last we saw, he was riding off into an unknown time in his train-turned-aircraft. Well, the Doc is back, as shown in a new teaser for the Back to the Future short film, titled Doc Brown Saves the World. Watch it below.
Universal released the teaser online, and the footage shows actor Christopher Lloyd reprising his famous character of Doc Brown. Donning a white lab coat, the "student of all sciences" steps out of his time-traveling DeLorean and is perplexed to be seeing, well, everything. Lloyd will further his reprisal in Doc Brown Saves the World, which is only included as an extra on the 30th anniversary Blu-ray and DVD releases of the Back to the Future trilogy. What the Doc will be doing in this short film is unclear, but based on the title, we can only postulate that he'll be saving the world in some capacity.
Earlier this year, Lloyd reprised Doc Brown for the Lego Dimensions teaser, which saw the Doc receive a package containing a LEGO figurine of himself. This was to help preview Doc's inclusion in the crossover video game.
Lloyd was also semi-recently seen as Doc Brown in Seth MacFarlane's A Million Ways to Die in the West, playing on the events of Back to the Future 3, which saw Doc and Marty travel to the Wild West.
The special edition release will be available on October 21, 2015, a date that Back to the Future fans will recognize as the day Marty McFly (Michael J. Fox) arrived in the future from the 1980s. According to The Hollywood Reporter, the packaging will also include a number of other extra features, including a 2009 retrospective documentary on all three films; two episodes of that animated Back to the Future spinoff; and a documentary called Outatime: Saving the DeLorean, which is about the restoration of this iconic vehicle.
The 30th anniversary of Back to the Future will also be marked by a number of events. Among them is a live auction taking place on October 24 in Los Angeles, and will include movie props and costumes, production and promotional material, and an online component. The auction will be a part of the We're Going Back…To The Future 30th anniversary celebration, which takes place over a few days and features celebrities, premieres, products, and photo opps. Elsewhere, Lloyd, Bob Gale, Alan Silverstri, and James Tolkan will be present for Back to the Future Live in Concert, an orchestral performance of Silverstri's movie score in New York City.
Your Daily Blend of Entertainment News
Thank you for signing up to CinemaBlend. You will receive a verification email shortly.
There was a problem. Please refresh the page and try again.