Watch Will Ferrell Get Nuts And Destroy An Office In Zeroville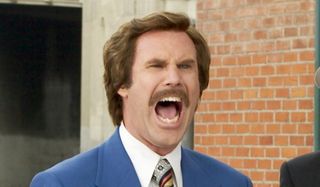 Have you ever seen Will Ferrell really flip his shit? Well, actually, he did that a little bit of that in Old School. And in Anchorman. And in Zoolander. And Elf. So, in most of his films there's at least one major freakout moment. His latest one in the upcoming movie Zeroville might take the cake, though.
James Franco, Will Ferrell's co-star and director of Zeroville, revealed the footage you see above on his Instagram account and we're already intrigued. It's pretty poor quality, since he filmed it from a TV screen, but we want to see more of Ferrell throwing papers up in the air as Franco screams, "It's art!"
Based on the 2007 novel by Steve Erickson, Zeroville is the story of an architecture student named Ike Jerome (played by James Franco) who's obsessed with movies. He arrives in Hollywood during the '60s and is able to land a job as a film editor - after which he's thrown into the behind-the-scenes industry world of sex, drugs and music. What makes the part a bit extra special, though, is the fact that Franco shaved his head and got a tattoo of Elizabeth Taylor and Montgomery Clift on his scalp
Ferrell is just one of an immense and impressive cast of actors in this adaptation, which includes the likes of Seth Rogen, Jacki Weaver, Megan Fox, Danny McBride, James Franco's brother Dave Franco, Craig Robinson, Joey King and Horatio Sanz. By this clip, we can infer that Ferrell plays some sort of executive, and previous reports have told us that we know that Weaver takes the role of Ike Jerome's mentor and friend; Rogen plays "eccentric, cigar-chomping, surf-hippy" filmmaker John Millius (going by the name "Viking Man"); Fox plays Soledad, the femme fatale of the film; and McBride will play a sketchy financier.
Looking at the source material compared to James Franco's previous work as a director, it's not hard to see how Zeroville fits into his wheelhouse. Since becoming a jack of all trades — writing, directing, acting and producing — he's had a fruitful go at pushing the boundaries when he can. Whether it's a graphic look inside a gay club with Interior. Leather Bar. or poking fun at North Korea and Kim Jong-un in The Interview, his work is often provocative. That being said, he's often at his best when he's doing comedy.
While Zeroville isn't a straight-up comedy (it's technically a dramedy), it sports a lot of impressive and hilarious talent. Ferrell is great at portraying over-the-top characters, and this clip alone has us ready for that trailer whenever it chooses to drop.
Your Daily Blend of Entertainment News
Thank you for signing up to CinemaBlend. You will receive a verification email shortly.
There was a problem. Please refresh the page and try again.