Watch Will Ferrell Take Out A Pelicans Cheerleader While Filming Daddy's Home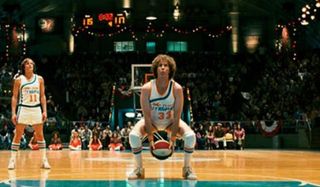 Imagine you are at an NBA basketball game. Everything is seemingly normal, the game is moving along, until half-time. Instead of a fun and peppy performance by the New Orleans Pelicans cheerleaders, Will Ferrell stopped by, playing a drunk idiot with a basketball, and nailed an unsuspecting cheerleader right in the head. Watch below:
Since this does occur at halftime of a regular season NBA game, it feels pretty darn real. But don't worry, the scene was scripted, and the crowd in attendance was forewarned. Will Ferrell was supposed to be playing an uncoordinated drunk. And though you can not see it from this Vine, Mark Wahlberg is sitting on the sideline, watching this ridiculous scene occur. The two are filming for their upcoming film together, Daddy's Home which follows the story of a recently married radio executive (Ferrell) determined to become the best stepdad possible while competing with the children's freeloading biological father (Wahlberg).
The film is being directed by Sean Anders, the man behind, Horrible Bosses 2 and That's My Boy. The last time we saw Wahlberg and Ferrell together, in the 2010 action-comedy, The Other Guys they played police partners who couldn't have less in common. Well, looks like they will once again be playing opposites in this upcoming film. But, in a film that is following the competition for children's affection, you know the two will have to come to some sort of agreement in the end.
Ferrell, who is no stranger to the world of sports took a bit of a turn since his granny-style shooting as Jackie Moon in the sports-comedy Semi-Pro. This time around he showed off his not-so-incredible and brutle skills at last night's game, and while we feel terrible for any pain inflicted, it was pretty hilarious. Ferrell who intended to shoot the ball from half-court, ends up taking out a cheerleader, and in turn, gets himself taken off the court by security.
But, it is all in good fun. Though Ferrell himself is an avid Lakers fan, he has shown his love for the Pelicans before. Last year, the celebrity posed with the general manager of the team for an on-court photo, so I'm sure they will forgive him. And if you want more of the America's Funniest Home Videos-type performance, you can watch the full video of the scene below by attendee/YouTube user Bob Smith. Daddy's Home is scheduled to release later this year, and also stars Linda Cardellini.
Your Daily Blend of Entertainment News
Thank you for signing up to CinemaBlend. You will receive a verification email shortly.
There was a problem. Please refresh the page and try again.