Watch This Funny Trailer For Harry Potter, If Directed By Edgar Wright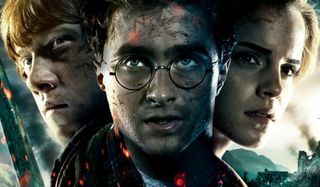 Have you ever thought what it would be like if Harry Potter was recut in the style of Edgar Wright's Scott Pilgrim vs. The World? The story about the "Boy Who Lived" does sort of have similar story elements to make this possible. There's a love element, there are seven things that need to be squashed and there's plenty of comic book-style action worthy of some graphic onomatopoeia. Well, some creative YouTube-r mashed both films together in one crazy cool video.
Edgar Wright is a master of his craft, and replicating his style is no easy task. However, YouTube user The Unusual Suspect, the same guy who created that awesome Avengers-Watchmen mash-up, did a pretty stellar job. Much like how Scott Pilgrim was created, he blocked off some of the shots into comic book-style frames and used music, various camera angles and fast editing to bring life to otherwise stagnant scenes.
However, while Scott Pilgrim inserted flaming swords and glowing katana blades into the mix, Harry Potter already has loads of flashy action going for it. All that was missing, really, were the "BAM!"s and "POW!"s. But if Edgar Wright were behind the Harry Potter franchise, you can bet the special effects would've been more colorful and less muted, especially in the last three movies.
Another great aspect of Scott Pilgrim, and Wright's films in general, is the music selection. The man takes exceptional care when it comes to selecting the tracks for various moments — he even used Beck and Broken Social Scene as fake bands in the movie. So while he utilized the likes of The Rolling Stones, Frank Black, Black Lips, a score by Nigel Godrich for the soundtrack, The Unusual Suspect used Great DJ, Big Ideas, Black Hole, Gum and more for his mash-up. See how it compares to the Scott Pilgrim trailer below.
Scott Pilgrim vs The World was more important than many realize. Edgar Wright learned a lot about himself as a director and the VFX of it all through this film, and he even said it was influencing him as he worked on Ant-Man, which is why we're still PO-ed that Marvel didn't make more of an effort to make that movie work with him. We can at least die knowing we saw at least one Edgar Wright comic book movie, even though his take on this size-shrinking superhero would've likely changed the course of the MCU even further, if only in terms of film technique.
Your Daily Blend of Entertainment News
Thank you for signing up to CinemaBlend. You will receive a verification email shortly.
There was a problem. Please refresh the page and try again.