Watch George Lucas Reveal 11 People Who Could Have Played Darth Vader In Hilarious Video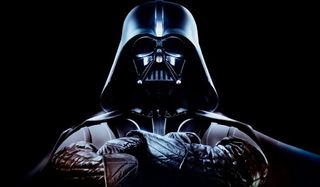 This may come as a shock, but James Earl Jones was not the first person to audition for the role of Darth Vader in Star Wars, nor was he George Lucas' first choice. We know, that's pretty much blasphemy at this point, but this comes from the mouth of Lucas himself. During a recent ceremony honoring James Earl Jones, the father of Star Wars made a special appearance to reveal the 11 other names he considered for Vader -- and while he may be joking at Jones' expense, the video is definitely worth a watch just for the clever cameos that are sprinkled throughout:
This clip screened at The Musical Celebration Of Broadway, which this year was honoring James Earl Jones and his career. He's currently celebrating his production You Can't Take It With You, which will be on Broadway until February 22, if you care to get tickets. But this moment from George Lucas and select actors, like Neighbors star Rose Byrne, Eric McCormack as himself (and then as Woody Allen), and the enchanting Debbie Allen of Fame, was one of the more memorable moments of the evening. That's probably also due to the fact that Angela Lansbury of Murder, She Wrote made an appearance at the end to reveal she was Lucas' first choice to play Vader. As she joked, the original line read, "It is your destiny, Luke. Join me and together we can rule the galaxy as mother and son." While the concept of a "Dartha Vader," as Lansbury put it, is already sending us into giggle fits, I would really love to see a Debbie Allen version of Vader, especially if she maintains her world-class sassafras.
We've heard a lot of different voices swapped in for Vader through countless spoof videos over the years. And although this video from Lucas and co. is pretty great, none can really best the likes of Pee-wee Herman as the iconic Sith Lord.
It's still unclear if Darth Vader will return in Star Wars: Episode 7, if only in a flashback or as a Force ghost. James Earl Jones did reprise his role in the Star Wars Rebels animated series, so it's not completely out of the realm of possibility. At the very least, we have a whole new crop of characters to spoof and make new memories with. Though, perhaps none as iconic as Jones.
Your Daily Blend of Entertainment News