Neighbors 2 Is Happening, Here's Who Is Involved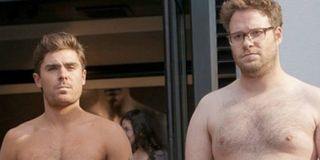 Seth Rogen and Zac Efron's raunchy comedy Neighbors was the surprise hit of last summer. Not only did it cost $18 million to make and earn $268 million worldwide, the film directed by Nicholas Stoller earned top-notch performances from the entire cast. With that in mind, it shouldn't have come as a surprise to learn that Universal was planning Neighbors 2, but we're nonetheless taken aback.
The Hollywood Reporter was the first to reveal the news of Neighbors 2, which is already set for release on May 13, 2016. The studio wants to go into production this summer and the main cast and crew are returning: Seth Rogen, Rose Byrne, Zac Efron and Stoller. Screenwriters Andrew Jay Cohen and Brendan O'Brien are returning to pen the sequel, but how what will it focus on now that Efron and his fraternity boys are no longer in school?
Though newbie parents Mac (Rogen) and Kelly (Byrne) had won the war against the frat next door, they will now have to deal with a raucous sorority. When the sisters prove to be too much to handle, the couple reaches out to their former nemesis, Teddy (Efron), to help fight back. We're already dream casting the sorority sisters in our mind. While Dave Franco, Christopher Mintze-Plasse and Jerrod Carmichael were among the high-ranking members of the fraternity, we can easily see actresses like Rebel Wilson, Emma Stone or Brie Larson leading the female pack. Much like the boys, there would need to be at least one major star at the head to draw in most of the audiences, while surrounded by some familiar and still prominent faces. We could also see someone like Thor's Kat Dennings or The House Bunny's Sarah Wright joining in.
However, there's one thing about the concept of this sequel that has us a little doubtful of its future success: the raunchiness. Part of what made Neighbors so over-the-top hilarious was the ball-busting script and comedic timing. Byrne was able to run with the boys, so to speak — in fact, she was such a great part of the film — but the mistake for Neighbors 2 would be to take the same jokes and just replace them with actresses. Can Cohen and O'Brien pull off something with the same raunchy edge that can also flaunt the talents of its female characters?
Rogen and Efron were already such major draws for Neighbors, and the fact that both are returning for another foray can only mean good things for Neighbors 2. As THR notes, this marks the former's first major movie deal since the whole fiasco over The Interview. Perhaps now we can all start to slowly forget about the ordeal.
Your Daily Blend of Entertainment News