Watch Harrison Ford Enter The Star Wars Comic-Con Panel To Thunderous Applause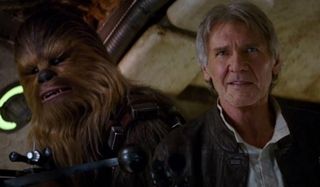 The Star Wars: The Force Awakens Comic-Con 2015 panel featured one shocking surprise after another. Fans went into Hall H knowing very little about what to expect and then BAM! In walked the cast and crew of the film. But while seeing the new principal stars John Boyega, Daisy Ridley and Oscar Isaac emerge into the spotlight was incredibly cool, nothing compared to the reaction felt throughout the hall when Harrison Ford popped up. Watch the crowd's reaction in the video below.
Ford, who reprises his role of Han Solo in The Force Awakens, was the last cast member to emerge on stage. When his name was dropped, the crowd exploded into applause as they rose to welcome back their old friend. The last time Ford was at Comic-Con, he was promoting Ender's Game with Asa Butterfield, and he was his sassy self. But this time, it was more of a touching and surreal experience for him and the audience. The actor embraced Mark Hamill (Luke Skywalker) and kissed Carrie Fisher (Princess Leia) before taking his seat.
Of course, one of the first questions asked was whether his foot was doing ok. Back during principal photography, one of the doors of the Millennium Falcon broke off and impaled Ford's foot. His subsequent hospital visit and injury were widely reported, and they even caused production to halt for a week. Now, though, he's feeling back to normal. Being back on a Star Wars set "should have felt ridiculous because it was 30frunf years ago," he said. But, looking out into the crowd, he said it felt great.
Though Ford's exuberant entrance was a major highlight of the panel, there were many. Along with the good guys came the reveal of the bad guys. Adam Driver plays Sith Kylo Ren, Dohmnall Gleeson plays General Hux, and Gwendoline Christie plays the silver stormtrooper Captain Phasma. Elsewhere, we saw photos of some of the creatures created through practical effects, and one of them by the name of Babba Joe hobbled out on stage. Then the panel became even more emotional when a behind-the-scenes reel screened, showing off some riveting shots of Abrams filming his actors on set and all the feelings erupting out of the cast and crew as they filmed something so iconic. Unfortunately, we won't be getting another Star Wars trailer until this fall, but the things we've seen at Comic-Con should last us until the next big reveal.
The Force Awakens opens on December 18. Finn, a stormtrooper, defects and encounters Rey while on the run on the planet Jakku. Meanwhile, X-Wing pilot Poe Dameron is sent on a mission by "a certain princess" that entwines his destiny with the other two.
Your Daily Blend of Entertainment News