Watch Ian McKellen As An Older, Loveable Version Of Sherlock Holmes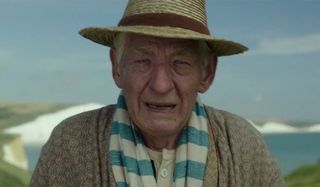 Sir Ian McKellen is regarded as one of the finest British actors of all time, and Sherlock Holmes is seen as arguably the most beloved fictional British character ever created. It doesn't take a genius to work out that molding the two together would make for cinematic gold. This teaser clip for Mr. Holmes suggests that's exactly the case.
Sen-bloody-sational. This is our first footage of Sir Ian McKellen playing the 93-year-old incarnation of Arthur Conan Doyle's adored literary creation, and it seems like, even though portraying such a besotted character usually comes with a heavy burden, The Lord Of The Rings and X-Men actor has taken to the role with ease.
McKellen looks like he has slightly altered his appearance to portray Holmes. Not only does his nose look a bit more bulbous than usual, he has greased back his hair and made his eyes smaller too. It's safe to assume that McKellen won't let these prosthetics and alterations overwhelm his performance, though (like, in my opinion Steve Carell did in Foxcatcher). Even in this brief clip it is apparent that McKellen had brought his usual mannerisms to his performance of Sherlock Holmes, while it also looks as though he's doffed his cap to the previous actors who have played the role, as well as the different illustrations that have been created of the iconic figure too.
As you may have noticed, Ian McKellen is playing an aged version of Sherlock Holmes in Bill Condon's Mr. Holmes, which is based on the 2005 novel A Slight Trick Of The Mind. The film is set in 1947 and it revolves around a long-retired Sherlock Holmes, who is living with his housekeeper, Mrs. Munro, and her young son, Roger. Now over 90 years old, Holmes is trying to write journals about his life while also looking after his collection of bees and dealing with his ailing mind. However, the film won't just follow the pensioner Sherlock around. It will also delve back into his past and we will see him aged 49, when he was at the height of his success and at the peak of his powers living on Baker Street.
Mr. Holmes also stars Laura Linney, who will portray Mrs Munro, Roger Allam, and Hattie Morahan - but clearly the most appealing aspect of the film is the thought of Ian McKellen portraying the character at two, maybe even three, different stages of his life. Having an actor of McKellen's ilk tackle such a deeply complex and adored role, which has already been terrifically played by dozens of actors, and try to make it stand-out amongst the others is the recipe for greatness. We'll get our first inkling of whether McKellen has done just that when Mr. Holmes debuts out of competition at the 65th Berlin International Film Festival in the next few days.
Your Daily Blend of Entertainment News