What Sherlock Holmes Looks Like As An Old Man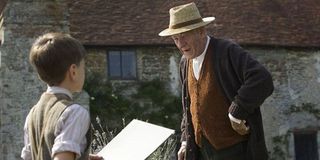 Have you ever wondered what the world's most famous fictional detective, Sherlock Holmes, would look like as an ornery, cane-wielding, whipper of young whippersnappers who have the audacity to wander onto his lawn? Well, someone clearly did and then decided to go into production casting the great Sir Ian McKellen for the titular lead. Now, the 75-year-old actor posted the very first production still from the upcoming Holmes redux titled, Mr. Holmes.
In the picture, shot in the UK, an aged Sherlock, donning a straw hat with cane in hand, is talking to a young boy named Roger, played by Milo Parker. (Or trying to convince Geordi La Forge that "the anomaly is bigger in the past?" Oh, wait…wrong X-Man.) The boy may have caught the geriatric gumshoe in the middle of a short sojourn down his driveway as he was getting his morning paper, when he asks Holmes to retain his services in "The Case of the Missing Minecraft Save." Yeah, just kidding.
If there is an award to give to a single franchise in the current collective entertainment world that is most effectively covered, the hypothetical awards committee would have little work to do and would only need to send it to 221B Baker Street in London, because Sherlock Holmes won before the contest even began. With the recent film franchise with Robert Downey Jr., BBC's Sherlock with Benedict Cumberbatch, and CBS's Elementary with Jonny Lee Miller (all of which, are rather good in their own right), there is no shortage of observational deduction in pop culture. Indeed, we are in what could be considered a renaissance for Arthur Conan Doyle's venerable Victorian vindicator of veracity.
Likewise, Mr. Holmes seems to be a worthy addition to that bunch. It's an interesting project with loads of possibilities, mainly because we get to see a side of Holmes at a point when his faculties are probably not firing on all cylinders. Throughout all the renditions of the Holmes character, the single most important attribute has always been his unwavering confidence in his own abilities, which often translated into a kind of smugness. They're a crutch to him in his personal life, but channeled through the mystery-solving process, they've never failed to make him look exceptional and supernatural. Barring the occurrence of drug addiction and emotional issues, he's never been truly hampered by anything out of his own control in quite the way that the natural process of aging will inflict.
I can see this carrying a dynamic similar to the classic TV detective series Columbo, in which criminals and cops alike are constantly judging a sloppy, unkempt book by its cover, only to end up trapped in the degraded, but still-sharp machinations of the elder Sherlock. Mr. Holmes is set to open in February in Germany. No U.S. date has been announced as of yet.
Your Daily Blend of Entertainment News