Watch This Jim Carrey Impersonator Totally Fake Out An International Awards Show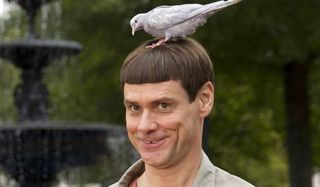 The organizers of the ?esky Lev awards in Prague are kicking themselves for being dumb (and dumber). They apparently don't know what Jim Carrey looks like, as they mistook an imposter Carrey for the real thing. Not only that, but they brought him into the awards ceremony and out onto the stage to greet the audience in a shower of confetti. The story becomes even more embarrassing when you realize that this prestigious film awards ceremony is basically the Oscars of the Czech Republic.
On the night before the Oscars went down in the U.S., the Czech Film and Television Academy said in a statement (via The Guardian) that they were "victims of an elaborate hoax." Basically what happened is that this guy, Hari Zinhasovic, had agents, a bodyguard and an interpreter, who were all communicating with the awards organizers. Since everything seemed legit — because, how could it not? — they invited the fake Carrey up on stage to present an award. He didn't say anything, though. He just waved and shot a confetti canon on himself as the audience clapped. Those two things should've been red flags. Yes, the CFTA eventually owned up to their mistake…but it wasn't until a couple days after the ceremony commenced. Even as moviegoers pointed out that this was not the real Jim Carrey, they insisted it was the Liar Liar star.
Even the ceremony's host, Lucie Vyborna, told a Prague newspaper that she was happy to have him there.
This excitement was quickly squashed when the newspaper made the reveal. We guess they must not have been that big of fans of Carrey's, otherwise they would have seen the blatant differences right away. This Zinhasovic guy looks more like David Boreanaz, if you ask me. The hoaxer reportedly asked for 25,000 CZK (about $1,031) in payment for his appearance, but the CFTA confirmed to Yahoo Movies UK that he wasn't paid a dime.
So, what does the real Jim Carrey have to say about all this? "MY SPIRIT WILL NOT BE IGNORED," he tweeted. If you though Zinhasovic looks remotely similar to Carrey before, this side-by-side attached to Carrey's tweet might change your mind.
To be perfectly honest, Carrey's right: he's way more interesting than the Oscars.
Your Daily Blend of Entertainment News