How Bones Will Deal With Emily Deschanel's Latest Pregnancy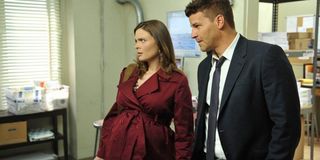 TV shows sometimes have to deal with unexpected outside factors intruding on their fictional world. Everything from an actor's haircut to an actress' pregnancy can have ramifications in the TV world, and Bones will be dealing with real life affecting the Fox series in the coming months. Just a few days ago we learned that Bones star Emily Deschanel is pregnant with her second child, leaving us to wonder if the show will try to hide her pregnancy, film around the pregnancy or just include the baby bump in the plot. As it turns out, Booth and Bones will definitely be welcoming a second baby on the show. It's just too bad that Dr. Lance Sweets won't be around to see the birth happen.
On Wednesday, news broke that the writers on Bones will incorporate a second pregnancy into the plotline. Back in 2011, when Emily Deschanel and real-life husband David Hornsby became pregnant with a child, Bones incorporated the story into the plotline, which eventually yielded the couple's gifted child, Christine. Since Booth and Bones are pretty settled in their marriage and Christine has aged up a few years, it's not wild for the couple to think about having a second child.
It should also make things easier for the show's writers and filming staff. Last year, the CW dealt with a similar snafu when series lead Jaime King was pregnant, hiding her belly using camera tricks for a couple of episodes and then writing her out of the series for several more in order to avoid a baby story. In that show's case, King's character, Lemon Breeland is unmarried and didn't have a serious beau, making a baby plotline a little trickier. In Bones' case, a pregnancy story is a whole lot more convenient.
Showrunner Stephan Nathan tells TV Line that he is confident the new plotline can be worked into the show.
Deschanel hasn't yet spoken out to say when her baby is due, but she is currently sporting a baby bump that will only grow bigger in the coming months. Depending on when the show decides to introduce the pregnancy, the baby may not be due on the show until next fall. In which case, Deschanel could very well be stuck with a fake baby bump for a few episodes of filming (like last time). Obviously, we don't know if Fox will even renew Bones for an eleventh season, yet, but recent reports indicate the cast would like to renew their contracts if Fox is cool with moving forward with another season. In the meantime, keep your ears tuned for the big reveal. With the 200th episode coming up this week, we may learn about the TV pregnancy sooner rather than later.
Bones is set to air its big 200th episode on December 11 at 8 p.m. ET.
Your Daily Blend of Entertainment News
Reality TV fan with a pinch of Disney fairy dust thrown in. Theme park junkie. If you've created a rom-com I've probably watched it.