Watch Johnny Depp Visit A Children's Hospital Dressed As Jack Sparrow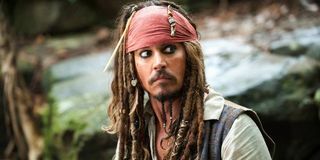 Any of you who harbor ill will towards Johnny Depp for a superfluous reason and are intent on keeping it that way might want to turn away now. The Pirates Of The Caribbean star recently surprised an Australian children's hospital dressed up as Jack Sparrow and the video and photos that have emerged with leave you with a lump in your throat.
As you can imagine, patients at Lady Cilentro Children's Hospital in Brisbane who came face to face with Johnny Depp in full on Pirates Of The Caribbean attire on Tuesday were rather shocked and delighted. In fact, they soon took to the internet to showcase just how overjoyed they were to be within inches of their nautical hero.
One of the brave patients that Johnny Depp met was Bella Harry, who has a bone tumor above her right knee. You can check out an image of Johnny Depp with Bella below.
And while taking a break from shooting on Pirates Of The Caribbean: Dead Men Tell No Tales, 52-year-old Depp made sure to sit down with Bella to try and lift her spirits. And from the looks of the below image it appears as though the actor did a sterling job.
As well as chilling with Bella Harry, Johnny Depp also made sure to chat with a number of other patients. Shane Finney took to his Twitter account to upload an image of the Oscar-nominated actor with her nephew.
Johnny Depp has previous experience when it comes to dressing up as Captain Jack Sparrow and wowing children. Back in 2009 he donned the beloved character's attire and surprised kids at London's Great Ormond Street Hospital. All of which makes me feel really bad that over the last five years I've pretty much dismissed him as a perfrome. Hopefully Pirates Of The Caribbean 5 will make me rethink that assessment. Not holding my breath though.
Your Daily Blend of Entertainment News