Watch Marvel's Awesome Black Panther Video To Get A Crash Course On The Mysterious Hero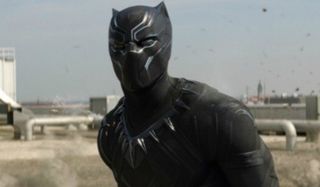 In Captain America: Civil War, we get our very first look at Chadwick Boseman's Black Panther, a superhero that has a long and storied comic-book history that dates back to the mid 1960s. There will be quite a few Marvel movie fans out there that won't be up to date with the character and his past. Fortunately, Marvel has their backs, because they've now released a handy little video that gives those who need it a crash course in the superhero, which you can now watch and take notes from below:
So, what did we learn? Well, let's start with Wakanda, the nation that T'Challa/Black Panther not only calls home, but is also heir to the throne. Located in the northeast of Africa, Wakanda is regarded as the pinnacle of civilization. Obviously that's a pretty big boast to live up to, but it's helped in this plight because, in the Marvel Universe, it's the most technologically advanced nation in the world that has vanquished every threat and never been conquered.
That's down to the talents of the Black Panther, a position and honor that has to be earned, can't be inherited, and is a title that's given to the chief of the Panther Tribe from the country. In Civil War, it's held by T'Challa, who is regarded as one of the 10 smartest people on the planet in the Marvel world. Is he smarter than Bruce Banner and Tony Stark, though? Hopefully we'll find out when the trio star in Avengers: Trivial Pursuit, a blockbuster that Kevin Feige will hopefully now be plotting for the studios' Phase 8.
Those of you taking notes on the Black Panther from the above video can rest in the knowledge that they basically just had the world's greatest tutor. That's because the man speaking was Ta-Nehisi Coates, who has won both the National Book Award and is a MacArthur Genius, too. Alongside artist Brian Stelfreeze, Ta-Nehisi Coates has now taken his talents over to Marvel Comics where he has written a brand new Black Panther comic-book entitled Black Panther: A Nation Under Our Feet.
Those of you who want to see Black Panther on the big-screen before diving into his comic-book stories will get their first glimpse of the character in Captain America: Civil War, before his own solo Marvel film is released in February, 2018. However, he'll almost certainly be popping up in both parts of Avengers: Infinity War as well. Basically, you're going to have plenty of opportunities to show off the Black Panther knowledge that you just acquired in the ensuing years.
Your Daily Blend of Entertainment News
Thank you for signing up to CinemaBlend. You will receive a verification email shortly.
There was a problem. Please refresh the page and try again.