Watch Paul Walker Car Surf In An Insane Furious 7 Stunt Scene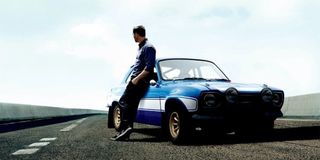 It's comes as no surprise to learn the Fast & Furious franchise intends on upping the ante with special effects, explosions and, of course, car chases in its next installment, Furious 7. This latest clip though, which sees the late Paul Walker car surfing like it's nobody's business, gives fans a new visual indicator, showing just how high they plan on raising the bar.
It's clear from the exclusive Yahoo sneak peak seen above, things will get out-of-control-explosive in the upcoming Furious 7. We've seen a number of images, trailers and clips but none have amped up to the levels seen in this clip. Watching Walker (as Brian O'Conner) pop through the windshield of his moving car, then surf its hood as the vehicle is rammed into the back of a bus (into which he makes a dreaded leap), was absolutely amazing. There's undoubtedly a good deal of greenscreen and CGI going on here but it's a job so well done, it's difficult to see where reality and effects come together. Its exactly those reasons, though, that this franchise is where it is today.
The above clip may only consist of just over a minute's worth of footage, but I think we can all agree that it's one intense minute of high-octane action! While we only see a tiny bit of the car chase, word is the scene continues on for several minutes more. In fact, what we see above makes up only about one-tenth of the massive action sequence, according to reports. For those who are familiar with the film's trailer, you already know (whether you put it together or not) where the sequence goes from here as the bus is tipped over, ending with an edge-of-your-seat moment with Walker's O'Conner hanging over the edge of a cliff. Check it out below if you haven't yet seen it—the bus scene picks up around the 1:05 mark.
Watching Walker perform in clips like the above brings an added layer of seriousness and intensity to the project, due to his sudden death, which happened back in 2013 -- midway through filming the sequel. Walker's death remains very emotional for fans, close friends and family, and the actor's Furious 7 co-stars. Vin Diesel recently presented a touching tribute to the actor at a recent screening of their upcoming film, which you can check out here.
The budget for the upcoming James Wan action thriller Furious 7 reportedly increased by about $50 million (over its already massive $200 million budget) in order to complete the scenes of Walker through the use of CGI and his brothers, who acted as stand-ins for the late actor.
Furious 7, which is expected to be a box-office smash, hits theaters April 3.
Your Daily Blend of Entertainment News
Your Daily Blend of Entertainment News
Thank you for signing up to CinemaBlend. You will receive a verification email shortly.
There was a problem. Please refresh the page and try again.