Watch Vin Diesel's Beautiful Tribute To Paul Walker At This Furious 7 Screening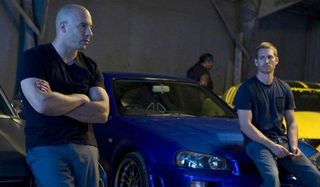 As Vin Diesel said during an advanced screening of Fast and Furious 7, this installment was one of the hardest projects he ever had to film. He starred in these films alongside his brother from another mother, Paul Walker, since the very beginning, and Walker's tragic passing is still felt to this day. As such, Diesel had some heartfelt words in presenting the latest Fast and Furious film to a select group of fans a couple of days ago. Grab your tissues now!
Fast and Furious fans gathered in Los Angeles on March 16 for an early screening of Furious 7, which hits theaters on April 3. After welcoming his third child with girlfriend Paloma Jimenez, Diesel made an appearance at the special event to introduce the film. Of course, he had to pay tribute to Walker, and the actor got choked up in remembering his longtime Fast and Furious co-star. The speech became even more emotional for the actor and the fans when he had to take a moment to gather himself. But the fans wouldn't let him wallow in silence. "You've got family here, Vin," shouted one attendee in support.
Walker's death on November 30, 2013 after a car accident came as a heavy blow to the cast and crew of Fast and Furious 7. Most of them, like Jordana Brewster — who plays Walker's on-screen love — Dwayne Johnson and Ludacris, have been working with him all throughout the franchise. Walker had filmed a majority of his scenes for Furious 7, and his passing caused the film's delay from 2014 to 2015. Many fans worried how Universal would treat the actor's remaining scenes, especially after some reported discussions of CGI. However, Walker's brothers, Cody and Caleb, were eventually enlisted to help fill in the gaps. Director James Wan and his crew promise the film will give Walker's character, Brian O'Connor, a proper sendoff. As Diesel described,
Diesel notes that Furious 7 is for Paul Walker. It'll surely be hard for longtime fans of the franchise and the cast to watch this film, knowing that Walker won't be beside them at the premiere. But hopefully Diesel can hear his friend's words resounding in his ear: "The best one's still in the can."
Your Daily Blend of Entertainment News
Thank you for signing up to CinemaBlend. You will receive a verification email shortly.
There was a problem. Please refresh the page and try again.