Watch Ryan Reynolds Rip X-Men Origins During Hilarious Interview With Hugh Jackman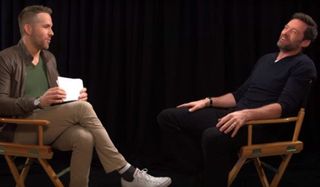 Hugh Jackman probably expected a somewhat easy ride when he was interviewed by his old X-Men Origins: Wolverine pal Ryan Reynolds to promote the upcoming Eddie The Eagle. But things didn't go according to plan for the Australian actor. Reynolds, clearly in a rather devious mood because of the release of Deadpool, immediately poked fun at X-Men Origins' depiction of the beloved character. And it made for absolutely sensational viewing. You can shoot ahead to around the 35 second mark below to see Ryan Reynolds' Deadpool quip.
Just when you didn't think you could love Ryan Reynolds any more the effortlessly cool and chic Canadian pokes fun at the one cinematic wrong that the record-breaking Deadpool was trying to correct. In a comment that was obviously aimed towards 20th Century Fox's bastardization of Deadpool back in 2009, Ryan Reynolds asked Jackman:
Clearly understanding what Ryan Reynolds was taking aim at (how could he not?), Hugh Jackman immediately then joked that even though the request wasn't made he would have almost certainly have approved of it if it had.
Sure, Eddie The Eagle is set in the late 1980s and revolves around a British skier who has to overcome a variety of personal and institutionalized hurdles in order to become the first ever competitor to represent Great Britain in Olympic ski jumping. But laser beams firing from an individual's eyes improves every film. Well, every film except for X-Men Origins: Wolverine.
Even though Ryan Reynolds was poking fun at Hugh Jackman's first solo outing as Wolverine, Hugh Jackman took the remarks in good spirits. Which is hardly surprising considering that the actor himself has repeatedly poked fun at the underwhelming adaptation himself, insisting that it felt more like X-Men 4 rather than an origin story for Logan, and things weren't helped by Wolverine's treatment of Deadpool. I mean, just look at the pitiful version they put out.
Thankfully, 20th Century Fox gave Ryan Reynolds and his Deadpool team the freedom to do a just, raw, and downright hilarious adaptation of the character. And the fact that Deadpool has already grossed $282.2 million in its opening few days is proof that the studio was right to do a second take on the property, and that audiences were clambering to see it.
Your Daily Blend of Entertainment News