James Gunn Defends Marvel, Praises Deadpool, In NSFW Rant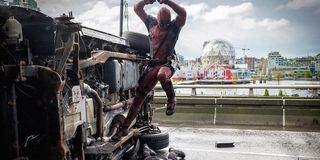 Only three days after its release, Deadpool has taken the world by storm. The movie has already grossed approximately $150 million domestically, with a worldwide haul of about $282 million. Even better, it's earned numerous positive reviews from both fans and critics, and a sequel has already been ordered. Despite it not being the first R-rated superhero movie, it's certainly become the most high-profile one, but there are varying opinions on why Deadpool performed so well. For instance, Guardians of the Galaxy director James Gunn is taking issue with what one person attributed Deadpool's success to over the weekend.
Deadline recently published a comment from a "Hollywood suit" that complimented Deadpool for having a "self-deprecating tone" and said that Marvel Studios would never make fun of themselves like that. Strongly disagreeing with that opinion, Gunn took to his Facebook page to defend Marvel and explain why Deadpool was great. He said:
While Marvel entries like Guardians of the Galaxy and Ant-Man may not have been as vulgar or broken the fourth wall like Deadpool, Gunn's right that Marvel movies do take opportunities to poke fun at themselves. The difference is that Deadpool is an inherently ridiculous character, so that lets him break out the quips and jokes more often. Marvel's movie characters may be more serious compared to the Merc with the Mouth, but this isn't a case of apples and oranges. Some of the Marvel heroes still get the chance to be lighthearted if the story calls for it.
Gunn also mentioned that he hopes that studios take the "right lesson" from Deadpool's success by green-lighting projects that feel different rather than assume that all "spectacle films" have to be raunchy in order to connect with audiences. It's the same kind of thing that happened with the Christopher Nolan Batman movies. That reboot series was gritty and serious, but some incorrectly assumed that a good superhero movie needed to be like that (I'm looking at you, 2015's Fantastic Four). It's all about sticking to what makes a particular property special and giving moviegoers something that don't already have. As for those upcoming projects not based on source material, well, as long as they're aiming for an original tone instead of directly replicating a previous success, then they should be fine.
You can catch Deadpool in theaters now, and as for Gunn, he's currently working on Guardians of the Galaxy Vol. 2, which is set for release on May 5, 2017.
Connoisseur of Marvel, DC, Star Wars, John Wick, MonsterVerse and Doctor Who lore. He's aware he looks like Harry Potter and Clark Kent.
Your Daily Blend of Entertainment News
Thank you for signing up to CinemaBlend. You will receive a verification email shortly.
There was a problem. Please refresh the page and try again.