We Called It! Lenny Kravitz Cast As Cinna In The Hunger Games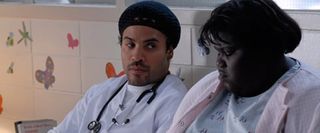 At last, the final piece of the Hunger Games casting puzzle is complete! Lionsgate announced tonight that Lenny Kravitz has been cast as Cinna, the stylist and confidant to lead character Katniss Everdeen as she travels to the Capitol city in order to enter the titular games. Kravitz had been rumored for a role weeks ago, along with Woody Harrelson and Stanley Tucci, who eventually signed on as Haymitch and Caesar Flickerman, respectively. I don't want to say I called that Kravitz would play Cinna but, uh, I totally did: "He was actually really good as the nurse in Precious, so he might fit well into a role like Cinna, a gentle guide to the terrified Katniss." I stand by it, and apparently Lionsgate and director Gary Ross both shared my thinking.
With Kravitz now on board all the major characters in The Hunger Games are set, though there a few other big characters-- notably President Snow-- who will have to be cast for the sequels. Meanwhile, hooray! The Hunger Games casting rodeo is finally complete, the movie is actually going to shoot, and in less than a year, on March 23, 2012, the movie will be released… likely starting yet another casting rodeo as they set up the sequel. Hopefully the movie itself will be good enough that we'll be ready for it to start all over again.
Staff Writer at CinemaBlend
Your Daily Blend of Entertainment News
Thank you for signing up to CinemaBlend. You will receive a verification email shortly.
There was a problem. Please refresh the page and try again.