We May Know Who Max Von Sydow Is Playing In Star Wars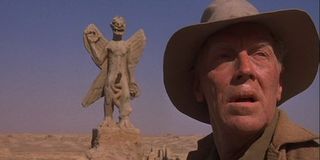 Given the giant cloud of secrecy and security surrounding the upcoming Star Wars: The Force Awakens, at this point we don't really know much about the movie other than a few tidbits. The closer we get, however, the more we hear, and a new rumor making the rounds may shed a bit of light on Max Von Sydow's character in the film.
Just a heads up, there are potential SPOILERS beyond this point. Tread cautiously, dear reader.
The 86-year-old Swedish actor was one of the names included in the initial casting announcement about J.J. Abrams' seventh Star Wars: Episode film, but there's been relatively little mentioned about his role in the film. Early scuttlebutt indicated he could be an ancient villain, though most recently he has been referred to as The Vicar—at least that was his codename. According to Making Star Wars, however, he is playing a character named Lor San Tekka. At least that's the rumor, emphasis on rumor—take this with a grain of salt.
As far as I know, and as far as I can track down, there is no precedent in the Star Wars universe for characters named Tekka. MSW's report indicates that he is an elder on a village on the desert planet of Jakku and that he has important information regarding the whereabouts of one Luke Skywalker—the prevailing rumor is that the Jedi has gone missing and much of the plot involves trying to track him down. According to the report, Poe Dameron (Oscar Isaac), seeks out Tekka hoping to find out what he knows.
If this is true, it jibes with earlier reports we've heard that stated Von Sydow's character plays a relatively small, though key part early in the story. Those reports indicated he contacts the Resistance, the new form of the Rebel Alliance, when someone brings him a lightsaber that presumably belongs to Luke Skywalker.
Isaac has said that his character is dispatched on a mission "by a certain princess" at the beginning the film, and it would certainly make sense that Leia might want to find out where her long lost brother has been hiding. If Poe Dameron is sent to Jakku to obtain this lightsaber, this is likely where he encounters Rey (Daisy Ridley) and Finn (John Boyega).
Knowing the identity of Max Von Sydow's character isn't a huge reveal—it sounds like he plays a pivotal role in kick starting the action, though not in much else beyond that point—but it is one of the smaller pieces of information that helps really complete the world.
As with most of what we have heard about Star Wars: The Force Awakens we most likely won't be able to confirm or deny any of this until the film finally opens on December 18. Until then we'll just have to wait until a new trailer drops.
Your Daily Blend of Entertainment News