Weekend Box Office: Batman v Superman Opens Huge, Rickman's Final Performance Hits The Top Ten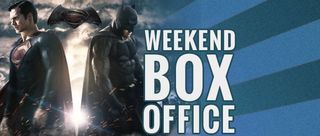 Easter weekend was one for celebration for folks over at Warner Brothers. Their launch pad for a Justice League franchise, Batman v Superman: Dawn of Justice may have been a critical dud (29% at Rotten Tomatoes) but fans turned out to show super hero level support.
With $170 million the movie not only tops the record for largest March opening (pushing out another franchise starter, The Hunger Games and its $152 million start in 2012), but according to Box Office Mojo it just edges out the Harry Potter franchise finale (Deathly Hallows - Part 2) as the biggest ever opening for Warner Brothers. Certainly they'd be happier if this new franchise also had the critical acclaim that Marvel's comic-movie-machine has enjoyed, but with the Potter film pool running dry, any new bankable franchise is welcome.
My Big Fat Greet Wedding 2 bowed in under the shadows of two very large capes, but made a splash in its own right. With $18 million and a third place debut it broke even on its first weekend against an $18 million budget. You can't compare the opening with its predecessor because My Big Fat Greek Wedding never had a real wide-release opening. Instead it started slow, building its way over a couple of months before hitting wide release. In the end that movie stayed in theaters for a year, banking over $240 million along the way, making it one of that year's top five grossing films. The sequel isn't likely to enjoy that level of success, but for a sequel arriving almost fourteen years after its predecessor and doing so under a major super hero release, it's a small something to celebrate.
Two movies in small release expanded just enough to sneak into the top ten. Sally Field's latest comedic offering Hello, My Name Is Doris and Alan Rickman's final live action performance Eye In The Sky (his voice work for Alice Through the Looking Glass comes out later this year), banked enough this weekend to take ninth and tenth places respectively.
For the full weekend top ten, check out the chart below:
1.
Batman v Superman: Dawn of Justice *

$170,100,000Total: $170,100,000LW: N
THTRS: 4,242
2.
Zootopia

$23,138,000Total: $240,547,409LW: 1
THTRS: 3,670
3.
My Big Fat Greek Wedding 2 *

$18,120,000Total: $18,120,000LW: N
THTRS: 3,133
4.
Miracles from Heaven

$9,500,000Total: $34,127,249LW: 3
THTRS: 3,047
5.
The Divergent Series: Allegiant

$9,500,000Total: $46,605,496LW: 2
THTRS: 3,740
6.
10 Cloverfield Lane

$6,000,000Total: $56,010,797LW: 4
THTRS: 2,802
7.
Deadpool

$5,000,000Total: $349,472,050LW: 5
THTRS: 2,336
8.
London Has Fallen

$2,926,000Total: $55,614,857LW: 6
THTRS: 2,173
9.

Hello, My Name is Doris
$1,700,925
Total: $3,268,689
LW: 14
THTRS: 488
10.

Eye in the Sky
$1,001,204
Total: $1,723,311
LW: 21
THTRS: 123
Your Daily Blend of Entertainment News
Thank you for signing up to CinemaBlend. You will receive a verification email shortly.
There was a problem. Please refresh the page and try again.