Weekend Box Office: Insidious Chapter 2 Scares Up Big Friday the 13th Win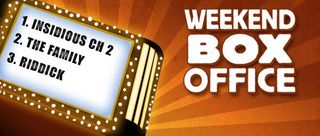 Despite it including a Friday the 13th, one movie franchise managed to make that fact work in its favor to wind up with a very lucky weekend.
Nevermind that the first Insidious movie only made $13 million its opening weekend, or that critics declared the sequel, Insidious Chapter 2 to be a poor shadow of its predecessor, or that September is usually when the pre-holiday box office doldrums set in and hardly anything does very well on its opening weekend... set all of that aside. Somehow Insidious Chapter 2 defied its way to the top, banking a number one $41 million debut, earning the second highest September opening of all time and the third highest supernatural horror flick debut of all time.
That's a particularly high note for director James Wan whose other major horror release this year, The Conjuring, also topped $40 million when it bowed in July. According to Box Office Mojo, that makes him only the third director ever to score two movies that opened higher than $40 million in the same year. The first to pull that off were the Wachowski brothers with their back to back releases of the last two Matrix movies back in 2003.
Luc Besson's The Family, the other new movie out this weekend, settled for a distant second place with $14.5 million.
For the full weekend top ten, check out the chart below:
1.
Insidious Chapter 2 *

$41,050,000Total: $41,050,000LW: N
THTRS: 3,049
2.
The Family (2013) *

$14,500,000Total: $14,500,000LW: N
THTRS: 3,091
3.
Riddick

$7,013,000Total: $31,280,000LW: 1
THTRS: 3,117
4.
Lee Daniels' The Butler

$5,582,000Total: $100,041,000LW: 2
THTRS: 3,239
5.
We're the Millers

$5,415,000Total: $131,602,000LW: 4
THTRS: 3,238
6.

Instructions Not Included
$4,250,000
Total: $26,581,000
LW: 3
THTRS: 933
7.
Planes

$3,066,000Total: $82,984,000LW: 5
THTRS: 2,739
8.
One Direction: This is Us

$2,400,000Total: $26,887,000LW: 6
THTRS: 2,300
9.
Elysium

$2,050,000Total: $88,388,000LW: 7
THTRS: 1,720
10.
Percy Jackson: Sea of Monsters

$1,825,000Total: $62,035,000LW: 8
THTRS: 1,638