Weekend Box Office: It Pays Well To Think Like A Man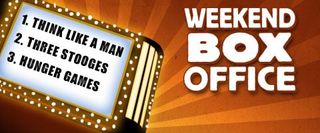 After enjoying four weeks at number one The Hunger Games finally ended its box office reign. While it still earned over $14 million, down just 30% from last week, and crossed the $350 million mark in total US sales, it was finally forced to give way to new, fresher competition.
Steve Harvey's pet project Think Like A Man made a solid debut, taking in $33 million for a comfortable claim on the top spot. Thanks to its very slim $12 million budget it's already a financial success as well.
Zac Efron nabbed second place with $22 million for his latest offering The Lucky One. That make him lucky indeed. Critics panned the sloppy romantic drama but all those teens who grew up with the High School Musical heart throb balanced it out with a healthy dose of irrational hunk-struck ticket purchases.
Meanwhile Disney's perennial Earth Day nature feature settled for a modest fourth place spot. Chimpanzee only opened in 1500 theaters but taking advantage of the environmentally focused weekend helped it bring in just over $10 million.
Titanic 3D slowed considerably, slipping from number four to number eight, but the estimated $5 million it added this weekend brought its total to $52 million, the second best overall total to date for a 3D re-release. At this point it's unlikely the sinking ship will catch up to the $94 million The Lion King 3D earned last fall, but still not a bad rerun for the second highest grossing film of all time.
Magnolia's release of documentary Marley got a lukewarm reception, making just over a quarter of a million in 42 theaters. That's not a great sign for the potential of a wide release, but enough that it could possibly break into the bottom part of the top ten if given the chance.
For the full weekend top ten break down, check out the chart below:
1.

Think Like a Man *
$33,000,000
Total: $33,000,000
LW: N WR: 1
THTRS: 2,015
2.

The Lucky One *
$22,805,000
Total: $22,805,000
LW: N WR: 1
THTRS: 3,155
3.

The Hunger Games
$14,500,000
Total: $356,900,000
LW: 1 WR: 5
THTRS: 3,752
4.

Chimpanzee *
$10,205,000
Total: $10,205,000
LW: N WR: 1
THTRS: 1,563
5.

The Three Stooges
$9,200,000
Total: $29,355,000
LW: 2 WR: 2
THTRS: 3,482
6.

The Cabin in the Woods
$7,750,000
Total: $26,980,000
LW: 3 WR: 2
THTRS: 2,811
7.

American Reunion
$5,200,000
Total: $48,300,000
LW: 5 WR: 3
THTRS: 3,033
8.

Titanic 3D
$5,000,000
Total: $52,828,000
LW: 4 WR: 3
THTRS: 2,515
9.

21 Jump Street
$4,600,000
Total: $127,066,000
LW: 8 WR: 6
THTRS: 2,427
10.

Mirror Mirror
$4,114,000
Total: $55,206,000
LW: 7 WR: 4
THTRS: 2,938