Weekend Box Office: Noah Rides Out Flood To Number One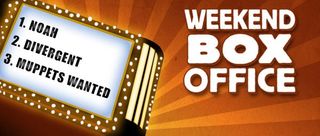 Audiences didn't exactly flood into theaters to see Darren Aronofsky's latest offering, Noah, but the much discussed Biblical adaptation made a solid opening, snagging a clear number one with $44 million. That's by far the largest opening for an Aronofsky film, but Noah also represents his biggest budget to date.
At $125 million plus marketing expenses (and just $55 million in foreign ticket sales so far) the movie isn't set to be wildly profitable, but if it holds strong the next couple of weeks it should give Aronofsky a little more credit with studios who till now have had to consider his edgy and unique storytelling style almost a liability.
Arnold Schwarzenegger's latest vehicle Sabotage stumbled in at number seven with just $5 million. That's the third movie in a row for the aging action star to open under $10 million, something that rarely occurred in his pre-governor career. Are people done going to the movies to see Arnold in action roles? Maybe it's time for him to start looking at scripts that need a lovable but intimidating grandfather with a thick accent.
The biopic Cesar Chavez opened in 650+ venues this weekend, and while it made more per screen than Sabotage its $3 million total was only enough to warrant twelfth place.
For the full weekend top ten, check out the chart below:
1.
Noah *

$44,000,000Total: $44,000,000LW: N
THTRS: 3,567
2.
Divergent

$26,500,000Total: $95,260,000LW: 1
THTRS: 3,936
3.
Muppets Most Wanted

$11,373,000Total: $33,210,000LW: 2
THTRS: 3,194
4.
Mr. Peabody & Sherman

$9,500,000Total: $94,909,000LW: 3
THTRS: 3,299
5.
God's Not Dead

$9,075,000Total: $22,028,000LW: 4
THTRS: 1,178
6.
The Grand Budapest Hotel

$8,825,000Total: $24,457,000LW: 7
THTRS: 977
7.
Sabotage (2014) *

$5,330,000Total: $5,330,000LW: N
THTRS: 2,486
8.
Need for Speed

$4,335,000Total: $37,753,000LW: 6
THTRS: 2,705
9.
300: Rise of An Empire

$4,300,000Total: $101,145,000LW: 5
THTRS: 2,601
10.
Non-Stop

$4,087,000Total: $85,167,000LW: 8
THTRS: 2,515