Weekend Box Office: Planet of the Apes Dawn At Number One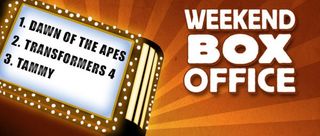 If there was to be a proportionate increase in ticket sales for Dawn of the Planet of the Apes based on how much better it was than is predecessor Rise of the Planet of the Apes, it would have easily done twice as well. As it was, Dawn did better, but not by so wide a margin. With a $73 million debut it was well above the $54 million opening of Rise and an easy number one for the weekend.
The question now is whether or not it can go on to become the highest domestic grossing entry among any of the Planet of the Apes incarnations. At present that record is still held by Tim Burton's 2001 remake of the original Planet of the Apes with its $180 million total (it's also the highest when adjusted for inflation with a total in the $250 million range by today's average ticket prices). So far the movie hasn't seen wide release internationally, but it has a tall order to overtake Rise and the more than $300 million it earned abroad.
Keira Knightley and Mark Ruffalo's latest offering Begin Again finally edged into the top ten. After two weeks in limited release it expanded to just under a thousand venues to bank almost $3 million and ninth place, just above the financially floundering tenth place Jersey Boys. Transformers 4 dropped to second place, crossing the $200 million mark. Domestically it's still lagging behind all three previous Transformers films, all of which had crossed the $240 million line by this same time in their release. It's faring better in foreign markets, sitting at $543 million to date, still second in the franchise after the third entry Dark of the Moon and its hefty $771 million international haul.
The big winner in the per-theater department was Richard Linklater's Boyhood which banked more than $70,000 per location in just five spots, giving it a solid $360,000 small release opening. That sort of success isn't surprising given Linklater's strong popularity with the niche market of audiences that enjoy his particular brand of storytelling. But, despite its unique and ground-breaking twelve-year-long filming process, Boyhood will likely find the same quiet reception in wider release as Linklater's other writing/directing projects, most of which have enjoyed critical acclaim but domestic box office totals under $10 million.
For the full weekend top ten, check out the chart below:
1.
Dawn of the Planet of the Apes *

$73,000,000Total: $73,000,000LW: N
THTRS: 3,967
2.
Transformers: Age of Extinction

$16,500,000Total: $209,031,000LW: 1
THTRS: 3,913
3.
Tammy

$12,910,000Total: $57,354,000LW: 2
THTRS: 3,465
4.
22 Jump Street

$6,700,000Total: $171,961,000LW: 3
THTRS: 2,811
5.
How to Train Your Dragon 2

$5,865,000Total: $152,068,000LW: 5
THTRS: 2,885
6.

Earth to Echo
$5,500,000
Total: $24,597,000
LW: 6
THTRS: 3,230
7.
Deliver Us From Evil

$4,700,000Total: $25,002,000LW: 4
THTRS: 3,049
8.
Maleficent

$4,169,000Total: $221,994,000LW: 7
THTRS: 2,077
9.

Begin Again
$2,935,000
Total: $5,286,000
LW: 15
THTRS: 939
10.
Jersey Boys

$2,510,000Total: $41,705,000LW: 8
THTRS: 1,968
Your Daily Blend of Entertainment News
Thank you for signing up to CinemaBlend. You will receive a verification email shortly.
There was a problem. Please refresh the page and try again.