Weekend Box Office: Ride Along Breaks January Record, Jack Ryan and The Nut Job Break Down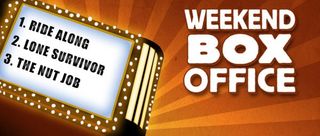 Critics agreed that there wasn't much to laugh at in Kevin Hart and Ice Cube's new comedy Ride Along, but if the past has taught us anything it's that packing 30 second TV spots with images of ex-rappers making angry faces and small children insulting popular stand-up comedians will put butts in the seats almost every time.
Ride Along not only took the number one spot this weekend, it did so with a bang. Taking in $41 million it enjoyed the largest January opening to date. It also marks the largest opening for either Ice Cube or Kevin Hart. Not bad for a movie that, by most accounts, didn't bring the funny.
Animated feature The Nut Job limped in at third place with just $20 million, a debut almost as disappointing as the reviews it received. It was up against light competition from Frozen which is still pulling in the double digit millions. The Disney hit is now entering its ninth week in theaters and going relatively strong, adding $11 million to its now $332 million domestic and more than $750 million international totals.
The lastest attempt to make the Jack Ryan character relevant to a new generation also fell flat. Even though the movie received mostly positive reviews, Chris Pine's presence doesn't seem to be helping get audiences in the way it did with the Star Trek reboot. Jack Ryan: Shadow Recruit banked a mediocre $17 million for fourth place.
D-list actors and fake blood continue to be fairly low cost, keeping the horror movie genre ironically out of the red. The latest horror entry, Devil's Due only took in $8.5 million this weekend for a quiet seventh place debut, but that number looks depressingly successful when put up against its simple $7 million budget.
For the full weeked top ten, check out the chart below:
1.
Ride Along *

$41,237,000Total: $41,237,000LW: N
THTRS: 2,663
2.
Lone Survivor

$23,239,000Total: $74,050,000LW: 1
THTRS: 2,989
3.
The Nut Job *

$20,550,000Total: $20,550,000LW: N
THTRS: 3,427
4.
Jack Ryan: Shadow Recruit *

$17,200,000Total: $17,200,000LW: N
THTRS: 3,387
5.
Frozen

$11,971,000Total: $332,602,000LW: 2
THTRS: 2,979
6.
American Hustle

$10,600,000Total: $116,431,000LW: 5
THTRS: 2,204
Swipe to scroll horizontally
7.
Devil's Due *
$8,500,000
Total: $8,500,000
LW: N
THTRS: 2,544
8.
August: Osage County

$7,592,000Total: $18,181,000LW: 7
THTRS: 2,051
9.
The Wolf of Wall Street

$7,500,000Total: $90,277,000LW: 4
THTRS: 1,930
10.
Saving Mr. Banks

$4,147,000Total: $75,391,000LW: 8
THTRS: 2,449
Your Daily Blend of Entertainment News
Your Daily Blend of Entertainment News
Thank you for signing up to CinemaBlend. You will receive a verification email shortly.
There was a problem. Please refresh the page and try again.