The Weird Reason Pierce Brosnan Turned Down Tim Burton's Batman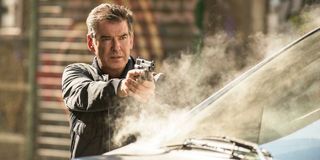 Before Michael Keaton made movie history and landed the role of Bruce Wayne in Tim Burton's Batman, a crop of other great actors were up for the role - including Bill Murray and Charlie Sheen. Last year we also found out that James Bond actor Pierce Brosnan was among the names in contention, and now new information has come to light revealing why he ultimately didn't get the part. Considering how popular the Dark Knight is now, the actor's reasoning is pretty mind-boggling.
During an interview Details, Brosnan briefly revealed the reason. In a nut shell, he just couldn't take the role seriously. But it put it a bit more harshly. Said Brosnan,
This isn't to say that Pierce Brosnan completely denounced the character. During a Reddit AMA last year, the actor wrote that he grew up loving Batman as a kid in Ireland. He described how he and his buddies used to tie their raincoats around their necks like capes and "swing through the bicycle shed." As he noted in his recent interview, "That was my foolish take on it. It was a joke, I thought. But how wrong was I?"
In 1989, Batman went on to become one of the beloved of all the DC superhero films. When Keaton popped up at San Diego Comic-Con a couple years back to promote RoboCop, fans in the audience shouted praise for his performance. Now, the character has received cinematic infamy, thanks in large part to Christopher Nolan's trilogy. Now Ben Affleck will succeed the long line of actors who've portrayed Batman in the upcoming Batman v Superman: Dawn of Justice, before going on to headline his own solo superhero film and take part in the Justice League installments.
Brosnan, however, did get a consolation prize. He ended up starring as MI6 agent 007 in four Bond movies — GoldenEye, Die Another Day, The World Is Not Enough and Tomorrow Never Dies. Despite this headlining gig, the actor recently spoke about his insecurities in the role. He said that he felt caught between "the Roger Moore and Sean Connery of it all," describing how he could feel echoes of their portrayals while making his films. Brosnan also expressed how he has a hard time watching his Bond movies because he never feels as though the performances are good enough. Perhaps this comes naturally in taking on such iconic roles, and this feeling probably wouldn't have gone away if he headlined Batman instead.
Your Daily Blend of Entertainment News
Thank you for signing up to CinemaBlend. You will receive a verification email shortly.
There was a problem. Please refresh the page and try again.