What George Lucas Said To Steven Spielberg Before The 1982 Oscars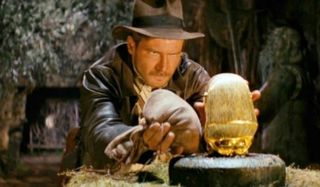 George Lucas and Steven Spielberg share one of the most endearing friendships in Hollywood. The pair have been close chums since the early 1970s, and they've not only assisted each other during their cinematic trials and tribulations, but they've also collaborated on a number of projects together too. Certainly one of their most notable shared projects was Raiders of the Lost Ark, and, in fact just before the 1982 Oscars, George Lucas sent a rather adorable telegram to his pal. You can read it below.
Aren't they just the cutest? Unfortunately George Lucas' Indiana Jones prediction ultimately turned out to be false. Despite being nominated for nine Academy Awards at the 1982 ceremony, including Best Picture and Best Director for Steven Spielberg, Raiders Of The Lost Ark only picked up five accolades. These were in the Best Art Direction, Best Film Editing, Best Sound, Best Visual Effects, and Best Sound Effects Editing categories. While five Academy Awards is clearly nothing to sniff at, I could imagine Steven Spielberg being somewhat miffed at George Lucas for his Indiana Jones telegram. After all, I'm sure it helped do its part in getting Spielberg's hopes up that he could win Best Director, and must have made the pain of losing that much worse.
Or maybe this was actually just George Lucas' fun way of getting back at Steven Spielberg. Fans of the two filmmakers may know that a Star Wars bet between the two filmmakers actually wound up costing Lucas millions of dollars. During an interview with TCM, Steven Spielberg explained that in the late 1970s, George Lucas was nervous that Star Wars wouldn't be the smash hit film that he hoped it would be. These fears were only exacerbated after he visited the set of Steven Spielberg's Close Encounters of the Third Kind. Lucas told Spielberg that he thought his friend's film would be much more successful than Star Wars. Spielberg didn't agree. As a result, Lucas told his chum that they should swap 2.5% of Close Encounters for 2.5% of Star Wars. Steven Spielberg went along with the exchange, and as a result it pocketed him around $40 million.
Of course, both Steven Spielberg and George Lucas were heavily involved in the creation and production of Raiders of the Lost Ark, so both had a lot to gain and/or lose on Oscar night. George Lucas created the characters and also developed the story for the first film in what would become the Indiana Jones franchise, while Steven Spielberg majestically brought the project to life as the film's director. But according to the Academy, his work just wasn't quite as majestic as Warren Beatty's on Reds.
Your Daily Blend of Entertainment News
Thank you for signing up to CinemaBlend. You will receive a verification email shortly.
There was a problem. Please refresh the page and try again.