What JJ Abrams Told Kevin Smith After The Hall H Debacle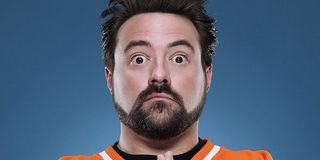 Over the weekend, Star Wars: The Force Awakens had a big presence at San Diego Comic-Con. They showed an awesome behind-the-scenes video, revealed some new information about characters, and generally made us have all of the feelings. As great as it was, however, the event was not without casualties, as it totally screwed over Kevin Smith, but it's okay, J.J. Abrams apologized.
If you don't know the story, Kevin Smith was set to do a panel for his upcoming film, Yoga Hosers, right after the Star Wars panel. That just seems mean, how do you follow Star Wars? Smith usually follows the Marvel slot, so he's not totally unaccustomed to this feeling, but when the Star Wars folks invited everyone at their panel outside for a surprise concert, of course everyone left. Smith recounted the event the next night on his Hollywood Babble-On podcast.
As he stood there, watching everyone in his crowd leave, Smith saw Abrams. The two are friends, Smith famously visited the set of The Force Awakens, and Abrams was apologetic. According to Smith, he said:
But that wasn't all. Like I said, the two directors are friends, and Abrams even followed up with an earnest email. Again, Smith is paraphrasing here, hence the swearing (Abrams doesn't seem like he has the same potty mouth Smith is known for), and he said:
Sure, his panel got the shaft, but for his part, Smith doesn't seem to harbor any ill will towards Abrams, or Star Wars. He even goes on to joke that now he has the leverage of guilt and can use it to his own advantage and force Abrams to "make me a fat stormtrooper." If nothing else, he has a hilarious story now, and we all know how much Smith loves to tell stories.
Here's the photo Smith tweeted as the crowd was being led out of Hall H.
If you haven't, you should listen to the rest of this podcast. As you imagine, much of the time is taken up with talk of things like the new Batman v Superman: Dawn of Justice trailer and Star Wars: The Force Awakens. And whatever you think of Kevin Smith as a filmmaker the man is a huge, passionate nerd. Listening to him talk his enthusiasm is infectious, and it's hard not to get swept up in an emotional giddiness. I can't count the number of times I got chills or thrills watching the video they unveiled, and I was sitting at home watching it on my computer, not surrounded by 6000 rabid Star Wars fanatics who waited I-don't-even-know-how-long to get in.
Star Wars: The Force Awakens opens everywhere on December 18, and the closer we get, the more excited I am.
Your Daily Blend of Entertainment News